Brooklyn Beckham endures so much 'hate' he's got used to being trolled!
After months of attacks over his photography and cookery efforts, Brooklyn Beckham has admitted he's got used to the torrents of "hate" he faces.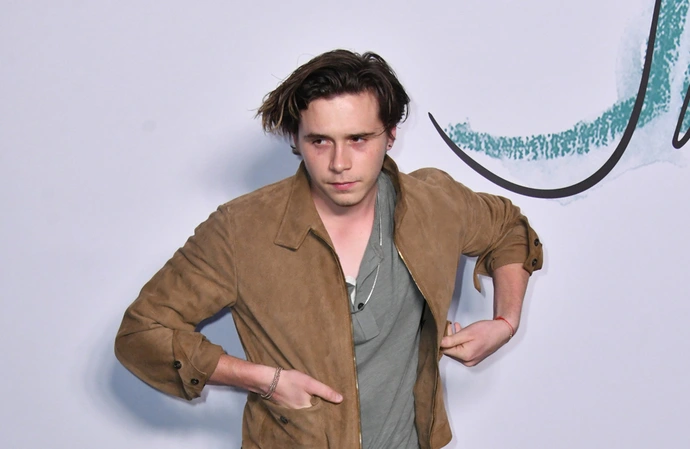 Brooklyn Beckham has got used to the "hate" he endures.
The eldest son of David and Victoria Beckham has faced mockery over his efforts to become a photographer and chef, and has now admitted he has seen so much trolling and bad reviews it no longer leaves him phased.
Brooklyn, 24, who married actress heiress Nicola Peltz, 28, in 2022, told Insider: "To be honest, I'm used to the hate. It doesn't really bother me. Cooking makes me happy. I have more important things to worry about than people saying a little bit of rubbish about me."
Brooklyn faced trolling over his kitchen techniques when he launched his 'Cookin' With Brooklyn' show in December 2021.
The Facebook Watch series has since ended, but the influencer has continued serving up cookery content on his other social media platforms.
He was recently slammed for using almost an entire $24.99 bottle of avocado oil to cook two pieces of chicken.
Brooklyn posted the clip on Instagram over the summer, and told his 16 million-plus followers he loved using Chosen Foods oil "for frying because of its high smoke point and neutral flavour".
He then covered the chicken breasts in a milk-based mixture before rolling them in a blend of spices and flour and poured the entire contents of the oil bottle into the pan.
Brooklyn, who does not have any professional culinary training, referred to himself as a "chef" when he was interviewed in his $1.2 million luxury sports car by a TikTokker.
Social media influencer Daniel Mac asked him: "Hey, man! What do you do for a living? Your car's awesome!"
Brooklyn replied: "Um, I'm a chef."
Danny asked: "You're a chef? Really? Are you, like, the best chef in the world?"
Brooklyn responded: "Tryna be!"
The influencer has had dreams in the past of following his dad into football, but he dropped by Arsenal when he was 15.
He then studied photography and media at a private London college and was accepted to study photography at the Parsons School in New York before he pulled out.
Brooklyn released his book 'What I See' photography book in 2017, which featured 300 "personal" photographs, including the infamous image of an elephant in silhouette face-on as the photo hadn't been lit correctly to show the animal.