Heidi Klum's took six hours and 10 Cirque Du Soleil dancers to create epic Halloween costume
Heidi Klum has revealed her peacock Halloween costume took six hours and 10 Cirque Du Soleil artists to create.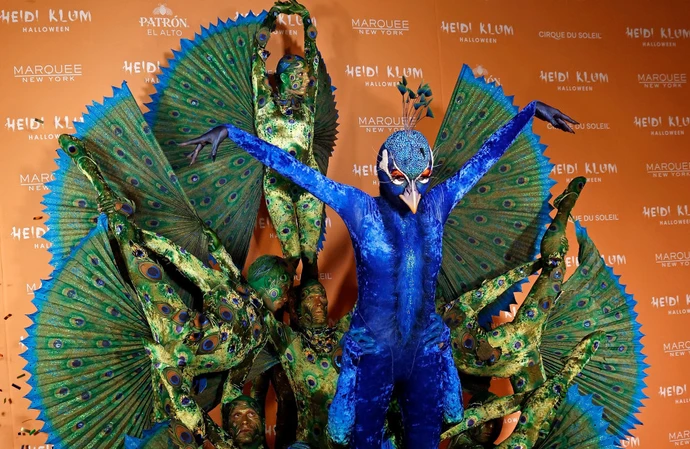 Heidi Klum took six hours and 10 Cirque Du Soleil artists to create her peacock Halloween costume.
The 50-year-old model - whose annual spooky party is the stuff of legend - wanted to create "something very elaborate" for the season after dressing as a "minimal kind of rainworm" for her 2022 bash, and she was flanked by backup dancers in green bodysuits acting as a full plume of feathers on Tuesday (31.10.23).
She told 'Entertainment Tonight': "Hair and makeup maybe took six hours, but really it was more in the planning, meeting with the artists, figuring out their costumes and makeup."
When it came to deciding on this year's extravagant outfit, she was keen to get "multiple people" involved after going more lowkey and static with last year's costume.
She explained: "Just because I was this very minimal kind of rainworm [in 2022], I wanted to make something very elaborate and I wanted to make a costume with multiple people.
"I started thinking about, what could that be? What thing could that be, what animal, what creature?
"I was thinking a peacock because a peacock is kind of together with the feathers and then it opens up. And I wanted to make an art performance out of it."
The 'America's Got Talent' judge - whose previous outfits have also included Princess Fiona from 'Shrek', cartoon siren Jessica Rabbit and The Mask - recently revealed she took a 10-hour round trip to check on this year's costume.
She told 'ET': "I actually just took a trip, five hours I had to fly some place - and i don't even want to say where, 'cause I don't want to give you away any clue - but I had to fly five hours to this mysterious place and five hours back just to have a little look how things were going.
"Things are going very well. Thank goodness! And I mean the tiniest little hint I can give you is it's going to be very colourful, and super big.
"Honestly, I was envisioning it to be epic."