Tekashi 6ix 9ine arrested after missing court hearing
Tekashi 6ix 9ine has been arrested for failing to appear in court in response to three tickets he received for motoring offences.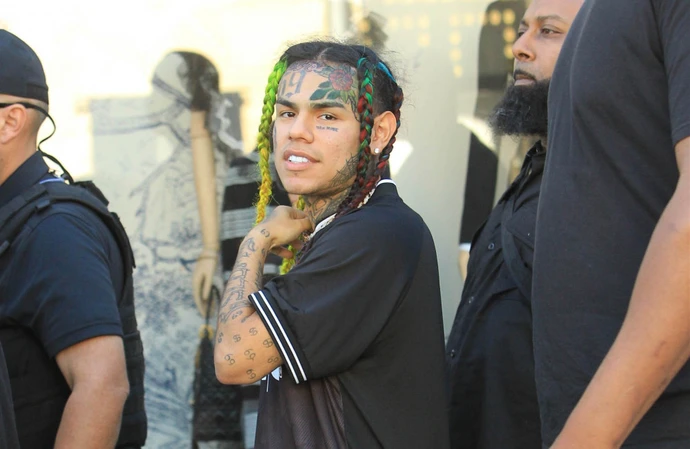 Tekashi 6ix 9ine has been arrested for failing to appear in court.
The 'GOOBA' hitmaker - whose real name is Daniel Hernandez - was booked into Palm Beach County Jail on Wednesday (08.08.23) night, jail records show.
According to TMZ, the 27-year-old musician was released from custody three hours later on a $2,000 bond.
The arrest stemmed from Tekashi receiving three traffic tickets after being pulled over by police in June for driving over the speed limit, with court documents stating he was given a ticket for speeding after going 135mph in a 65mph zone on the Florida Turnpike, and was also issued citations for having no car insurance and an unregistered vehicle.
The rapper failed to appear for a court hearing on the matter in July, prompting a judge to issue a warrant for his arrest.
In April, the 'Trollz' hitmaker - who was released early from federal prison in 2020 after admitting participation in gang activity and becoming a witness for the prosecution - was violently assaulted in a Florida gym, for which three men were arrested.
Takeshi, who was treated in hospital for non-life threatening injuries, later branded the attack "cowardly".
Sharing a video of the incident on Instagram, he wrote: "First time addressing the situation. For 2 years I been walking around with no security. Not saying I promote that BUT now you see I really never hid from anything.
"Anyway what happen here was nothing but cowardly. I'm not mad this happened. In the street there's no rules so I can't say they were wrong. Obviously it wasn't fair but again the streets has no rules. Just imagine having nothing to do to with a situation and feel obligated to make it your business. (Very weird) I'm happy to be here still. And I want to say I love my fans. Thank you (sic)."