Machine Gun Kelly dedicated 'Bloody Valentine' hit to 'the ladies' amid Megan Fox split rumours
Machine Gun Kelly was playing a gig on Saturday night – hours before his fiancé Megan Fox erased all trace from him from Instagram – when he dedicated his 'Bloody Valentine' hit to "the ladies".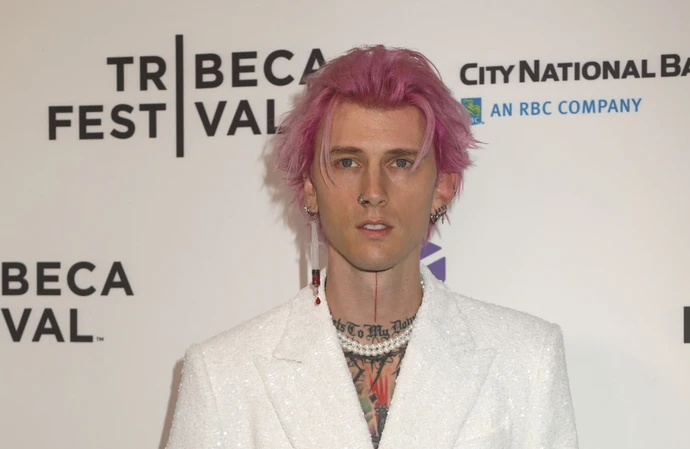 Machine Gun Kelly dedicated his 'Bloody Valentine' hit to "the ladies" at a gig performed hours before his fiancé Megan Fox sparked rumours they had split.
The rapper-turned-rocker, 32, performed at Sports Illustrated's The Party on Saturday (11.02.23) night, on the eve of Super Bowl 2023, before fans speculated Megan's Instagram post about being able to "taste the dishonesty" were proof the couple – who went public with their relationship in 2020 – had called it quits.
He had the crowd at the gig in the Talking Stick Resort in Scottsdale, Arizona, singing and dancing along to his hits including 'I Think I'm OKAY', 'My Ex's Best Friend', 'Forget Me Too' and 'God Save Me', and told fans before he played 'Bloody Valentine': "This one's for the ladies."
Page Six said a representative for the party confirmed 'Transformers' actress Megan, 36, was not at the gig.
She was also absent from the red carpet for the event, where MGK briefly appeared with his band, including guitarist Sophie Lloyd and drummer Rook.
Megan, who got engaged to MGK – real name Colson Baker – in January 2022, started split rumours on Saturday night when she deleted all traces of him from her Instagram feed and posted a video in which she appears to torch a letter and a bag on a bonfire.
She also uploaded mirror selfies taken by a man standing beside her in the posts and captioned the images: "You can taste the dishonesty / It's all over your breath" – which are lyrics from Beyoncé's 2016 track 'Pray You Catch Me' about her husband Jay Z's affair.
Hours later she deleted her Instagram, prompting more speculation from fans it was further confirmation she had broken up with MGK.
Megan and MGK were last pictured together in public hours before her post about dishonesty, when the pair partied at Drake's Super Bowl party in Scottsdale, Arizona.
The actress' fans posted in the comments section alongside her latest images that they had noticed she had started following Eminem, with whom Megan worked in 2010 when she featured in the music video for his single 'Love the Way You Lie'.
Megan, who shares three children with her ex-husband, Brian Austin Green, 49, last week paid tribute to MGK for his "humility and maturity" in a long Instagram post just before the Grammy Awards, where he lost out on Best Rock Album for his record 'Mainstream Sellout', with Ozzy Osbourne taking home the prize.