Paige VanZant teases OnlyFans-style collaboration with ex-WWE star Mandy Rose
Hailing it as the collaboration all their fans had been waiting for, Paige VanZant has teased her OnlyFans-style content with former WWE star Mandy Rose.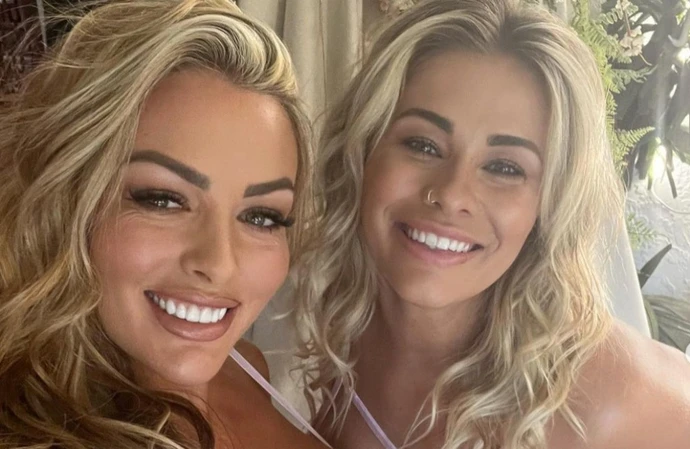 Paige VanZant is teasing her OnlyFans-style collaboration with former WWE star Mandy Rose.
The MMA fighter and model, 29, posted a short video with 32-year-old Mandy with the pair wearing swimsuits and declared the pairing all their fans had been waiting for was on its way.
She said on Saturday (03.06.23): "The collab you've all been waiting for is dropping. Monday, June 5th, at 8pm EST… You know where to find it."
A day later, Mandy posted on her Twitter about how they were teaming up for content on her FanTime site: "Sunday funday. Make sure you guys are subscribed to my VIP fan page http://fantime.com/fitmandyinfo to see the big collab with @paigevanzant dropping tom 6/5 @ 8pm EST!"
Mandy – born Amanda Rose Saccomanno – goes by the handle Mandy Sacs on her FanTime page, and offers a subscription of up to $95.90 for a year.
Paige launched her OnlyFans page last September, charging $9.99 per month or a yearly option for $95.50.
She said on Instagram about joining the site: "You will get access to exclusive content, training videos and so much more."
Mandy was released by WWE last year for posting racy images on her FanTime page.
She told Tamron Hall in January about the move: "Everything happens for a reason, and I can't say I was wronged, because I am so forever grateful for everything that WWE has presented me with, so I can't sit here and say I was wronged."
But Mandy added about being "very hurt" by the release: "I'm hurt. 100 per cent. I'm very hurt.
"No one wants to get that call that you're being fired from any job. So I was very hurt. I was very disappointed.
"I was disappointed so much more because of everything that I put into the business, but just the last year-and-a-half. I was champion for 413 days. I unified those two titles.
"I was the third-longest reigning NXT women's champion."
In January, Mandy told the New York Post she had already earned $1 million from her FanTime page.
Paige's last UFC fight was in July 2020 – a first-round loss to Amanda Ribas, 29, via submission at UFC 251.
A year later she competed twice in the Bare Knuckle Fighting Championship and had a fight scheduled with the promotion last year against Charisa Sigala, 39, but it was cancelled.
She posted on Instagram about it being axed: "I did not pull from my fight!!!! I was pulled! I am pissed off and heartbroken! I worked my f****** a** off to be pulled a week before I am supposed to compete!!!!!"