Sum 41 release new song Landmines as frontman Deryck Whibley recovers from pnemonia
Deryck Whibley was admitted to hospital earlier this month but is now on the mend.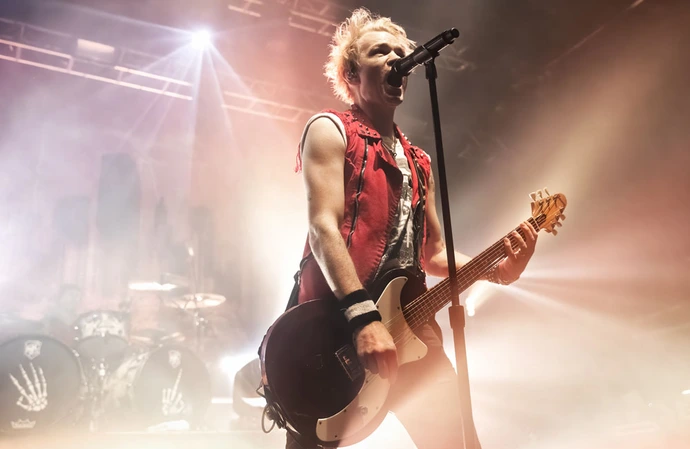 Sum 41 have released the new song 'Landmines', just days after frontman Deryck Whibley's health scare.
The 43-year-old rocker was rushed to the emergency room on September 15 after his health took a turn for the worse – nine years after he nearly died when he was hospitalised after his drinking spiralled out of control.
He is back home now after being treated for pneumonia and is hoping to recover in time for the 'In Too Deep' hitmakers' pair of shows at When We Were Young festival in Las Vegas on October 21 and 22.
The group are also due to play a gig on October 20 at Brooklyn Bowl ahead of the Sin City festival shows.
And they have a new song for fans ahead of the shows.
Deryck said of the old-school track: "When I wrote 'Landmines', I had no intention of writing an old-school 'pop punk' song. It just came out really quickly and I knew right away that this song felt special to me."
The musician's wife Ariana took to Instagram a day after he was admitted to the hospital to deliver the update that he had been discharged.
Reassuring fans, she wrote: "I'm very happy to be giving this update. Deryck was discharged after responding so well to his treatments.
"He is now under the care of his mother who is a registered nurse and myself. The pressure and strain on his heart and lungs has improved and he is able to breath without as much pain.
"I can't tell you how truly grateful we are for the community around us. We knew we had support but the outpouring of love for our family has been absolutely overwhelming and we can't begin to say how much it has meant to us and helped us stay positive through this."
There had been fears he could suffer heart failure.
Sum 41 announced in May that they were breaking up after 27 years together and finished their 'Let the Bad Times Roll' tour in North America earlier this month.
The group said in an Instagram statement about their decision to split: "Being in Sum 41 since 1996 brought us some of the best moments in our lives.
"We are forever grateful to our fans both old and new, who have supported us in any way. It is hard to articulate the love and respect we have for all of you and we wanted you to hear this from us first."