Dua Lipa writing songs with Harry Styles and Adele's songwriter
Dua Lipa has been in the studio with Grammy-winning songwriter to the stars Tobias Russo Jr and studio wizard Mark Ronson.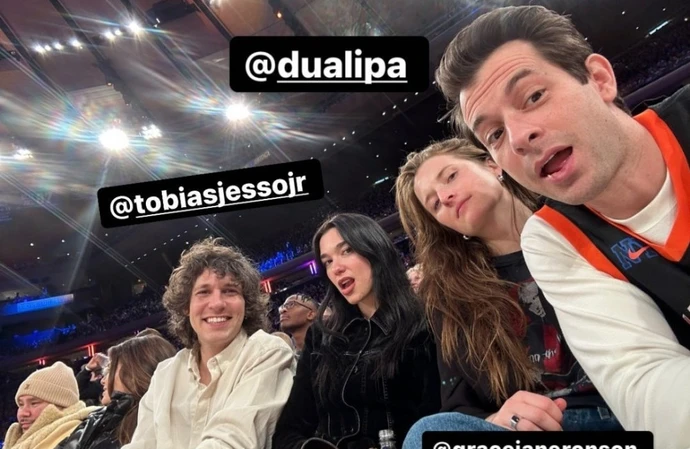 Dua Lipa has been working with Harry Styles and Adele's co-writer on her third album.
The 'Don't Start Now' hitmaker has been in the studio with Tobias Jesso Jr, the Grammy-winning songwriter who co-wrote 'Boyfriends' on 'Harry's House' and 'When We Were Young' and Target bonus track 'Lay Me Down' from Adele's '25'.
As quoted by the Daily Star newspaper's Wired column, Dua has declared: "He will be writing songs with me for the rest of my career."
Dua has also had studio wizard Mark Ronson working on her most personal tracks to date for the follow-up to 2020's 'Future Nostalgia'.
Tobias teased: "She's just been blowing my mind.
"I mean, she would, mid-session, record an episode of her podcast. We'd take an hour break then she'd come back and we'd just continue with the song. I couldn't believe the hustle."
He added of his role: "Like a therapist, you're trying to just get to the golden nuggets, even if they find them on their own."
Dua joined Tobias, Mark, and the latter's wife Grace Ronson at Madison Square Garden this week for the Hornets-Knicks game in New York City and shared a selfie to her Instagram Story.
Last month, it was reported that Dua is putting the finishing touches to her "really personal" record.
The 27-year-old singer is expected to be "a lot more revealing in her lyrics" and has written on every song on the album.
A music insider told The Sun newspaper's Bizarre column: "Dua's third album is really personal to her and she has been hands-on at every turn.
"She has spent hundreds of hours in the studio and has written on every song - that is really important to her.
"As one of the biggest names in pop music, all of the most talented writers and artists have been vying to work with her.
"Dua has been very clear about her direction in keeping it upbeat and fun, but she will be a lot more revealing in her lyrics."
It's not yet known exactly when Dua will drop her new album, but she is expected to release "at least some new music" before 2023 is out.
The insider added: "The label are really excited about it and are planning a lengthy campaign on a whole new scale to maximise the music, so its release date is up in the air - especially until it is completed.
"But the plan is for fans to hear at least some new music from the record by the end of the year."
Dua also admitted she was worried her third album could leak online.
The 'Levitating' singer's record company bosses are desperately trying to ensure recordings for the highly-anticipated LP are secure after a song she worked on with Pharrell Williams appeared recently, with the offcut from her second studio album 'Future Nostalgia' the latest in a series of unreleased tracks from the pop star to have made it into the public domain.
A source said at the time: "Over the past month or so countless demos and rejected songs from Dua have been appearing online."