Harry Styles' Grammys performance went in the 'wrong direction'
Harry Styles has been praised by his backup dancers for continuing his Grammys performance amid a technical glitch that saw the stage spin the wrong way.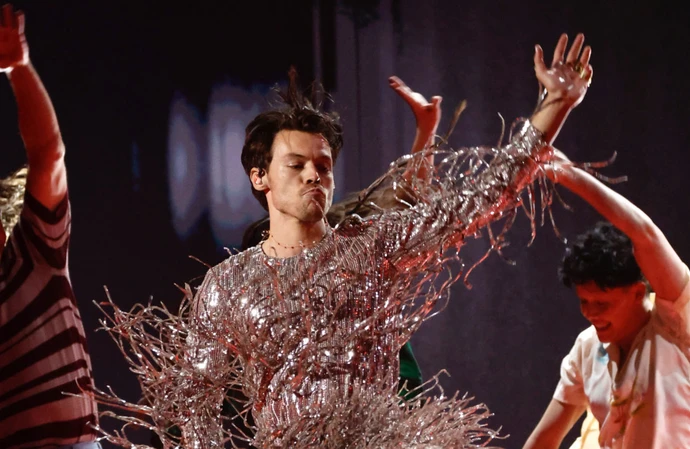 Harry Styles' Grammys performance went in the "wrong direction" due to a technical glitch.
The former One Direction star's dancers have claimed the turntable stage started spinning the wrong way during the performance of 'As It Was' at the ceremony in Los Angeles on Sunday (05.02.23), causing the pop star and his backup dancers to perform in "reverse".
Dancer Brandon Mathi explained on his Instagram Story: "The moment the curtain opened and it was time to perform, our turntable started spinning in reverse, backward.
"There was nothing we could do to stop it. So after a week of rehearsing this piece perfectly going one way, the moment it's time to perform, it starts going the other way, and in real time we have to troubleshoot and do a complete piece in reverse.
"Talk about professionalism."
Another dancer, Dexter Da Rocha, said in a since-deleted TikTok that they tried to "get the attention of the technician" at the Crypto.com Arena, but it was difficult due to it being live television.
He said: "So, to switch all those patterns on the spot, having not even walked in that direction... like it sounds it'd be easy to walk, it's like a treadmill, but I swear to god, since it's circular, it pulls you in different directions and it's such a special type of balance."
Da Rocha heaped praise on Harry for being able to "reverse everything while he was singing and reverse his entire duet."
Harry won two prizes on the night, including the prestigious Album of the Year accolade for 'Harry's House'.
He said during his speech: "I've been so inspired by every artist in this category with me.
"But it's important for us to remember that there's no such thing as the best in music. This doesn't happen very often to people like me so this is very nice, thank you."
He beat off stiff competition from the likes of Adele ('30'), Lizzo ('Special'), Coldplay ('Music of the Spheres') and Beyoncé ('Renaissance').