Brody Jenner has welcomed his first child into the world
Brody Jenner and his fiance Tiarah 'Tia' Blanco welcomed their first child, daughter Honey Raye, into the world on 29 July.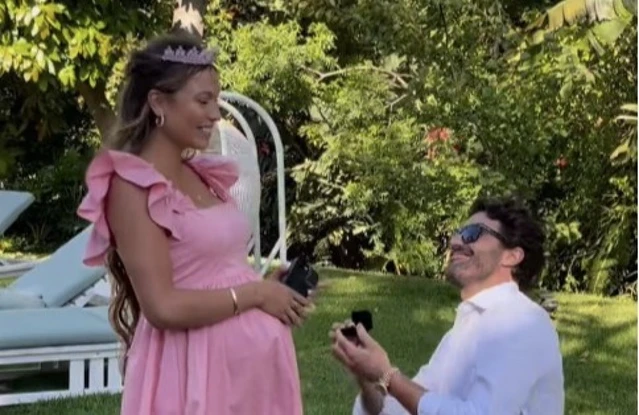 This video is no longer available.
Brody Jenner has become a father for the first time.
The 'Hills: New Beginnings' star and his fiancee Tiarah 'Tia' Blanco, 26, welcomed daughter Honey Raye into the world on 29 July, they revealed in a joint Instagram post on Thursday (10.08.23) and they have shared the little girl's home birth in a video shared to their YouTube channel.
Alongside a video clip of the baby's birth, the couple wrote on Instagram: "We welcomed our baby girl, Honey Raye Jenner, to the world on July 29th [heart emoji] Momma and baby are in perfect health. We are so incredibly in love and have been cherishing this precious time together as a family. We want to thank everyone for all the love and support. [prayer emoji]
"We put together a video of our journey including our baby shower, proposal and full home birth… Posted to our new youtube channel. Link in bio (sic)"
Among the first to comment was Brody's mom Linda Thompson, who thanked her 39-yeaar-old son and his partner for allowing her to be with them when Honey was born.
She wrote: "Oh my God, I'm crying all over again! What a spectacularly beautiful moment! Thank you so much for allowing me the incredible privilege of being there, and watching my little angel being born! Tia, you are a champion of life! And, as I told you, you stayed sweet and kind throughout your pain! Brody, you could not have been more loving and attentive than you were for all those long hours of labor! I love all three of you beyond measure!(sic)"
In the YouTube video, Brody hailed Tia - who he was first romantically linked with in April 2022 - as the "perfect person" for him.
He said: "To be totally honest here, I really didn't even know if I could have kids. I really just had no idea. And going into this relationship, Tia was the absolutely perfect person.
"She's my better half. She's the most incredible woman I've met in my entire life. And I think the universe kind of does things the way it's supposed to. She was the perfect person for me. We got pregnant very fast. I know we've only been together a year, but she's the right one and I know that with all my heart."