Travis Kelce bonds with Taylor Swift's dad
Travis Kelce has revealed he bonded with Taylor Swift's father over football while they were in Argentina.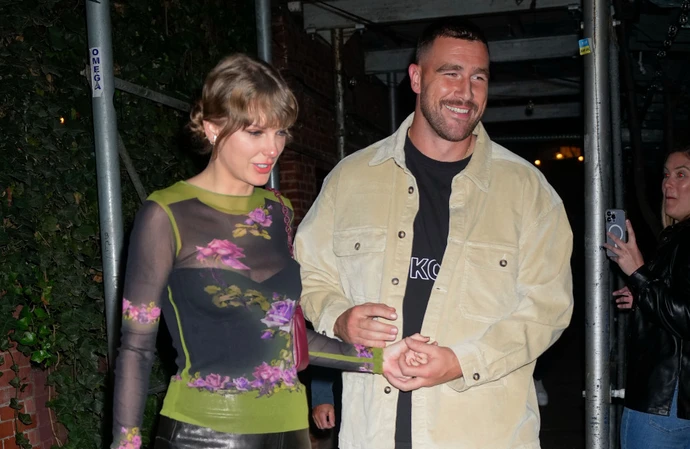 Travis Kelce bonded over football with Taylor Swift's dad.
The Kansas City Chiefs tight end met Scott Kingsley Swift for the first time while in Argentina watching his girlfriend perform on her 'Eras' tour and eagled-eyed fans noticed the 'Cruel Summer' singer's father, a lifelong Philadelphia Eagles fan, was wearing a lanyard for Travis' team around his neck, something the sportsman admitted was a result of a conversation they'd had over dinner.
Speaking to his brother Jason Kelce - who plays for Philadelphia Eagles - on their 'New Heights' podcast, Travis quipped: "Got him over to the good side, baby. Just one by one, getting all the good ones to come on over."
Jason jokingly fumed: "What are we doing, Scott? You're gonna let this man's devilish good looks and relationship with your daughter sway you from a lifetime of fandom, Scott? Ridiculous."
Travis then revealed: "I might have persuaded him at dinner the night before. When I met him."
The 34-year-old NFL star revealed Taylor's dad is a "huge football guy" and played the game in his younger years.
He said: "He played college ball, I believe a year at Hawaii and then a year or two - I forget how long - he was at Delaware."
He then revealed Scott played linebacker and Jason's position, centre, prompting his sibling to suggest: "We're going to have to get together and talk some centre shop one day."
The family dinner took place after Taylor was forced to postpone a concert due to extreme weather and Travis admitted she "wasn't too happy" to do so, but they tried to make the most of the evening without being disrespectful to fans.
He said: "She wasn't too happy about it.
"She kinda prides herself on performing through weather or rain and things like that, but when it's unsafe to her and her crew and everybody in the stadium, you gotta do what you gotta do.
"We got some good food, man — had some empanadas and steak. They're big on all the different cuts of meat. Got some good steak down there, man.
"We didn't want to just go have a blast throughout the city like we didn't care about the show, so we made sure we stayed in the hotel and kind of kept to ourselves."
Despite getting along well with Taylor's dad, Travis issued an apology after he "left Scott hanging" when he offered up a hand for a high-five after the 33-year-old singer changed the lyrics to 'Karma' and sang: "The guy on the Chiefs coming straight home to me."
Admitting he was "shocked" at the reference, Travis said: "Yeah, Mr. Swift, I apologise big guy.
"Man, I missed that. I never miss a high-five, too. Big high-five guy. It's the most electric thing you can do at an event and so, sorry Mr. Swift."