Marisa Tomei 'caught in stalker scare that ended with security using Tasers on mob of crazed fans!'
After the actress allegedly didn't stop for selfies, Marisa Tomei is said to have been hounded by a mob of crazed fans who reportedly had to be repelled by security using Tasers.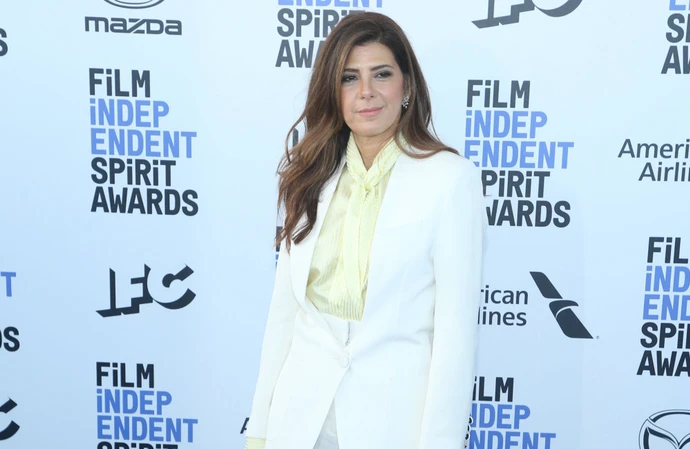 Marisa Tomei was reportedly at the centre of a stalker scare that ended with security using Tasers on a mob of crazed fans.
The 58-year-old actress was said to have been followed by a group of selfie-hunters at a star-studded party at the Chelsea Hotel in New York to celebrate the opening night of the off-Broadway play 'Danny and the Deep Blue Sea' before security stepped in to repel the crowd.
Page Six reported about the alleged incident on Monday (13.11.23): "Spies say event security repelled an iPhone-wielding horde with Tasers, and then someone in the crowd called the cops."
A source also told the outlet: "Extra security was called to try to manage the swarm of fans who congregated outside the show's after party.
"Tensions came to a boiling point when Marisa Tomei exited the party at around midnight, and tried to avoid the throng by bee-lining for her nearby car.
"Security quickly stepped in, brandishing Tasers, which provoked at least one member of the crowd to dial 911."
Page Six added the incident kicked off after Marisa allegedly didn't stop for photos with fans, a mob of whom followed her while "taunting" the actress.
It said: We're told that when the police showed up, tempers had cooled, and Tomei was already safely on her way home."
Event organisers were said to have invited the cops inside the party for drinks at the legendary hotel – but Page Six said the "on-duty officers politely declined" alcohol.
'Danny and the Deep Blue Sea' stars Aubrey Plaza, 39, and 37-year-old former 'Girls' actor Christopher Abbott.
Among the stars the "unruly fans" came out to glimpse were Dakota Johnson, Marc Jacobs, Mark Ruffalo, Patti LuPone, Natasha Lyonne, Michael Cera, Zawe Ashton, Ben Stiller, John Waters, Ethan Coen, Stephanie Hsu, Dan Stevens and Sam Rockwell.
Page Six has previously reported that Bradley Cooper and Gigi Hadid caught a preview of the revival at the Lucille Lortel Theater in Chelsea, as did Olivia Wilde.
Aubrey has said she was living with Patti while the show was in its preview run.