Bruce Willis' family thankful he is 'the same' amid dementia battle
Tallulah Willis has provided a health update on her father Bruce and explained why the family is so open about his battle with Frontotemporal dementia.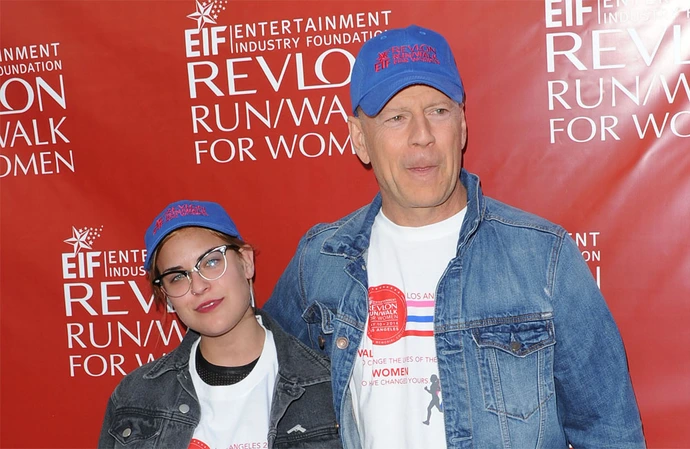 Bruce Willis' family are thankful he is "still the same" amid his battle with Frontotemporal dementia (FTD).
Tallulah Willis - the 29-year-old daughter of the retired actor, 68, and his 60-year-old ex-wife Demi Moore - has provided an update on her father's "state" and admitted they are fortunate that he's still like the same old Bruce in many respects, despite his battle with the degenerative disease, which causes behavioural changes.
Providing an update on his condition on 'The Drew Barrymore Show' this week, she said: "He is the same, which I think in this regard I've learned is the best thing you can ask for.
"I see love when I'm with him, and it's my dad and he loves me, which is really special."
Tallulah explained that her family has been so open about Bruce's battle with FTD because it's important to raise awareness and help others who might be "struggling" with a diagnosis or family members going through it with their loved ones.
She said: "I think it's twofold. I think on one hand, it's who we are as a family.
"But also, it's really important for us to spread awareness about FTD.
"If we can take something that we're struggling with as a family and individually, to help other people, to turn it around, to make something beautiful about it, that's really special for us."
Tallulah also shared that a sweet way she is helping herself "heal" is by discovering her father's "trinkets and doodads" around the house.
She shared: "Part of what's been a really beautiful way for me to heal through this is becoming like an archaeologist to my dad's stuff.
"His world and his little trinkets and doodads."
Tallulah's update comes after Bruce's wife Emma Heming Willis- who has Mabel, 11, and Evelyn, nine, with the 'Die Hard' star - admitted she has no idea if her spouse knows he has dementia.
Appearing on the 'Today' show, the 45-year-old beauty said: "What I'm learning is that dementia is hard.
"It's hard on the person diagnosed, it's also hard on the family. And that is no different for Bruce, or myself, or our girls. When they say this is a family disease, it really is."
Bruce also has Rumer, 35, and Scout, 32, with 'Ghost' star Demi.