Lupta Nyong'o thanks friend for giving support during 'hardest days' of break-up
Lupita Nyong'o has thanked her friend Palmer Hefferan for supporting her through the "hardest days" since splitting from Selema Masekela.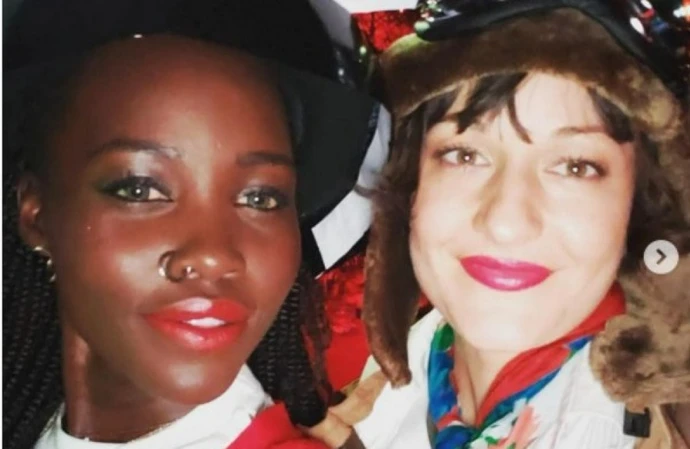 Lupita Nyong'o has been through the "hardest days" since splitting from Selema Masekela
The 'Black Panther: Wakanda Forever' actress revealed last month her year-long relationship had come to an end because of the "deception" of her former partner, and she's now paid tribute to her friend Palmer Hefferan for the kindness, support and guidance she has provided over the last few weeks, including encouraging her to get a cat, who she named Yoyo.
Sharing some photos of the pair together, as well as Palmer on her own, Lupita wrote on Instagram: "Recently, when my life was turned upside-down from heartbreak, Palmer flew in swiftly to be by my side and help me through the hardest days as I adjusted to my new reality.
"She made me delicious meals, she found me therapeutic activities to get my mind off things, she cried with me and made me laugh until I cried a more joyful kind of tear.
"She did not tire of being of service to me, and the biggest gift she bestowed on my life was helping me get my first pet, Yoyo. Now every time I look at him and cuddle with him, I am reminded of the selfless love my sister from another mister showed me.
"I will never be able to pay her back for the kindness she has shown me, and the beauty of the friendship is that it is never about evening the score! But I have every intention to try… Thank you truly, deeply, P! (Did I mention that she is also a kick-ass Tony Award nominated sound designer? Check out her latest work in PENELOPE!) @palmzhefferan #SunshineSeries (sic)"
The 40-year-old actress had begun her post by reflecting on the early days of her friendship with Palmer and how she has been able to rely on her since they studied at drama school together.
She wrote: "Palmer is the kind of friend that I can count on through thick and very thin. We don't have to talk every day, but when we do, we pick up exactly where we left off, like no time at all has passed.
"We were roommates in drama school and though we grew up in such different places (Kenya and Florida), we found a kindred spirit in each other, especially in the kitchen! We defied college norms and bought groceries together, we cooked for each other and carried the extra weight when one of us was too swamped with school work to do their fair share around the house.
"For Halloween, Palmer always looked out for me – one year she bought a bumble bee costume for herself at a dollar store and a ladybug costume for me because she knew I was not prepared to party that night!"
Lupita confirmed her break-up in an emotional post last month.
She wrote in part: ""It is necessary for me to share a personal truth and publicly dissociate myself from someone I can no longer trust.
"I find myself in a season of heartbreak because of a love suddenly and devastatingly extinguished by deception."