Zooey Deschanel will allow Jonathan Scott wedding request his first wife forbade
'New Girl' star Zooey Deschanel and her fiance Jonathan Scott's wedding will have bagpipes after his first wife forbade it.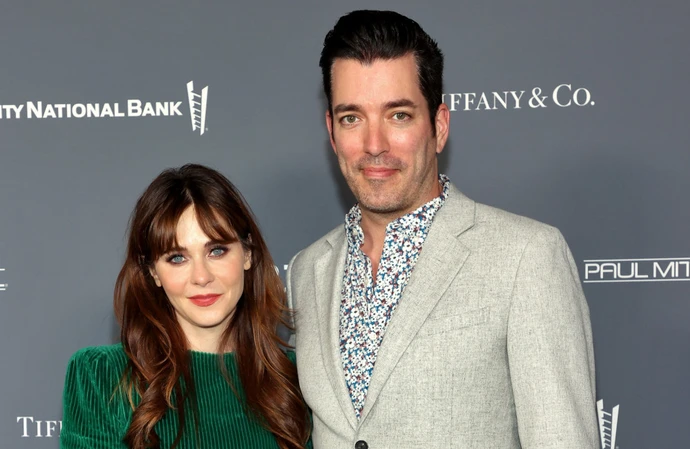 Zooey Deschanel and Jonathan Scott's wedding will have bagpipes after his first wife forbade it.
The Canadian 'Property Brothers' star and the 'New Girl' actress are planning their upcoming nuptials and he revealed Zooey is letting them embrace his Scottish heritage in a way his ex Kelsy Ully wouldn't allow for their own wedding in 2007.
He told Entertainment Tonight: "It should have been a red flag for me, but I'm Scottish. I'm proud of my Scottish heritage."
His previous spouse prohibited the instrument and their wedding, even though they were getting married outdoors by a lake.
He added: "I get that it's too loud in a church or something, but we were out on the lake."
Thanfully for the 45-year-old star, his 43-year-old fiancee is happy to incorporate bagpipes into their wedding.
He said: "Zooey and I have talked about the stuff that we want to do. She knows the things that are important to me, the things that have hurt me.
"I've had other relationships where the person ended up doing the same thing that hurt me in a previous relationship.
"They knew that that was what happened in a previous life, and they still did it."
Jonathan's Scottish heritage also played a role when he proposed to Zooey back in August at Edinburgh Castle with her two children holding up a banner that read: "Zooey, will you marry me?"
He recalled: "I proposed at Edinburgh Castle, I had a pipe band set up… we cleared the castle. We were the only people there."
Meanwhile, Zooey recently revealed the couple are perfectly suited to each other.
She told PEOPLE magazine: "Our personalities are so compatible. It's just that we're from different worlds. We identify as nerds, we'll have you know."
Despite this, Zooey feared that Jonathan was ghosting her at one point in time.
He explained: "We talked or texted every single day, I think, and still have every day since we've met, except for the [time] I went up on a packed trip up into the middle of the Rocky Mountains, where there was no cell service.
"She thought I was just blowing her off because I didn't respond for, what, three days or something."