'You'll forever be in my heart. I love you Matty': Matthew Perry's former assistant pays moving tribute
Matthew Perry's longtime assistant and friend "thankful" to the late star for getting her into a career she loves and taking her on a "remarkable journey".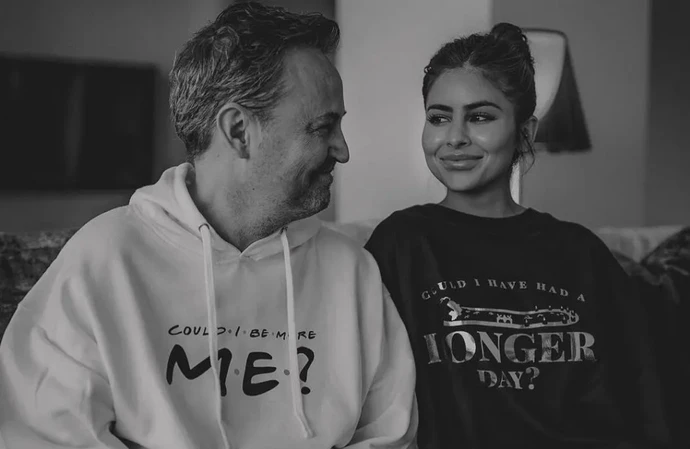 Matthew Perry's former assistant and close friend, Briana Brancato, has paid a moving tribute to the late 'Friends' star.
The 54-year-old actor was tragically found dead in his hot tub at his home in the Pacific Palisades area of Los Angeles on Saturday (28.10.23), and tributes continue to pour in.
Briana has Matthew to thank for getting her career off the ground and said it was an honour to "take care of him" for several years, as she got to see firsthand his "genius" and was taken on a "remarkable journey" with him.
Sharing a series of pictures of them together and a video of Matthew making funny faces behind her on a flight, she wrote on Instagram: "I've expressed my deepest gratitude to him on numerous occasions, not only for guiding me into a career I cherish but also for allowing me to take care of him for 7 years.
"Along [with] the countless other experiences I'm thankful for. From witnessing him in his genius to sharing in his worldly adventures living around the world, he took me on a remarkable journey."
She signed off the post: "I hope that up there, in the great beyond, Mattman is sending us signs. We truly need them. You'll forever be in my heart. I love you Matty."
The tribute came as Matthew's 'Friends' co-stars broke their silence and admitted they are "so utterly devastated" by his shock death.
Sources had said the late Chandler Bing actor's co-stars David Schwimmer, 56, Jennifer Aniston, 54, Courteney Cox, 59, Lisa Kudrow, 60, and Matt LeBlanc, 56, spent a day crafting a joint statement to express their grief and pay tribute to their co-star.
They said in a note released on Monday (30.10.23): "We are all so utterly devastated by the loss of Matthew. We were more than just castmates.
"We are a family.
"There is so much to say, but right now we're going to take a moment to grieve and process this unfathomable loss.
"In time we will say more, as and when we are able.
"For now, our thoughts and our love are with Matty's family, his friends, and everyone who loved him around the world."
The message was signed by each of Matthew's old friends.
Even though it is feared he died from drowning, an official cause of death may take weeks to be confirmed by the medical examiner.
Insiders said Matthew's 'Friends' co-stars were crushed by the tragedy.
One told Page Six: "The cast is reeling from the loss of their brother, because that's what Matty was – their brother.
"The entire cast are close, they will be devastated, because they were together through the best of times and worst of times.
"And when Matty was sick, they protected him, they looked him after him fiercely."
Matthew had a particularly close relationship with Jennifer, who played Rachel Green on 'Friends'.
He admitted he started off wanting to date her, but his crush instead developed into a close friendship as she supported him throughout his stints in rehab amid his drink and drug addictions.
Matthew told Diane Sawyer in 2022 about the actress' help: "She was the one that reached out the most. You know, I'm really grateful to her for that."