Hailey Bieber says home can be 'anywhere' as long as it's with her husband and dogs
Despite living a hectic jetset lifestyle, Hailey Bieber has insisted she can feel at home "anywhere" as long as she's with her husband of five years Justin Bieber and their pets.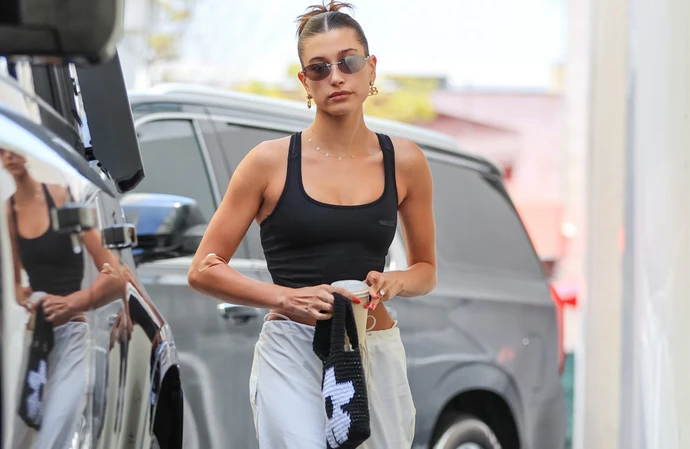 Hailey Bieber says home to her can be "anywhere" as long as she's with her husband Justin Bieber and their dogs.
The model, 26, and singer, 29, married in 2018, but Hailey stressed they have known each other since she was a young child so he has always helped her feel at "home".
She told GQ Hype: "I actually met him when I was 12, so I've known him for a really long time."
The pair later reconnected at a church service in New York years later and became close friends, then dated, broke up, got back together, before they eventually married at a Manhattan courthouse in 2018.
It was followed by a huge wedding inspired by 'The Notebook' a year later in South Carolina.
Hailey added about her life as a jet-setting model and beauty brand boss: "Home to me feels like I can be anywhere. As long as I'm with my dogs and my husband, I'm good. I can make home out of that anywhere."
She added about feeling settled despite her hectic work schedule: "I very much feel like this is where I'm meant to be.
"I've had times where I didn't feel so connected to myself or my body for different reasons. Right now, in my life, I feel very clear, very solid, very happy. I'm just focused on what's in front of me."
Hailey also told GQ Hype about why she and Justin Bieber often dress like they are on "two separate planets".
She said: "It's so funny because I see so many people talk about this," before revealing Justin typically gets ready first, and likes to wear casual outfits.
Hailey added: "He may want to wear baggy sweats to dinner, and I might want to wear a tiny little dress just because that's how I'm feeling. We can't sit there and be like, 'So I'm going to wear this and you're going to wear this.'"
Hailey recently showed up at a Rhode launch event wearing a glamorous red Ermanno Scervino minidress with a bag and heels, while Justin was dressed in grey tracksuit bottoms and yellow Crocs.
Last year, Hailey wore a Blumarine blazer dress with thigh-high stockings to pal Kendall Jenner's 818 Tequila party, and Justin opted for a hoodie and denim.
Along with her and Justin's style, Hailey also spoke with the online magazine about the pregnancy rumours that have swirled around the pair for the last year.
She said: "I can't be bloated one time and not be pregnant?"
Hailey added it was "disheartening" to read people's comments about her body.
She said: "It would be a lie if I was like, 'Oh, yeah, I don't give a s***'.