Tori Spelling 'living in luxury at $18,000-a-month rental house' after motorhome and motel stays
After months of living in a cheap motel and an RV with her five children, Tori Spelling is said to have moved into a $18,000-a-month rental house with a games room.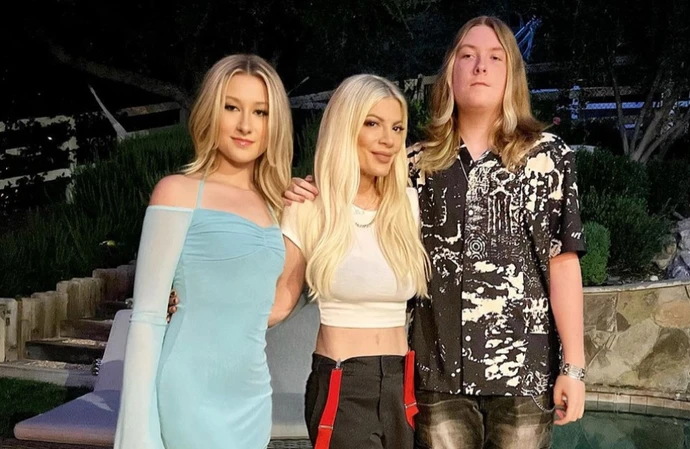 Tori Spelling has reportedly moved into a $18,000-a-month rental house.
The 'Beverly Hills, 90210' actress, 50, has spent months living for with her five children in a motorhome amid her rumoured financial troubles, but is now said to have shifted out of the RV and into a "fully furnished" pad in the Woodland Hills area of Los Angeles.
According to the Daily Mail, the single-story, 3,300-square-foot property in the San Fernando Valley has four bedrooms and three bathrooms, along with a guest house with its own bathroom.
And a listing for the home said they were "exquisitely furnished" with plenty of natural light.
Amenities include hardwood floors, large sliding glass doors, flat screen TVs, a gaming room and posh furniture.
The house also has a large pool, a patio, an outdoor entertainment space and a dining area, which accommodates up to six guests.
Tori – who has kids Liam, 16, Stella, 15, Hattie, 12, Finn, 11, and six-year-old Beau with her estranged 56-year-old actor husband Dean McDermott – was apparently spotted last week looking at moving trucks and a storage facility in Los Angeles.
Tori and her kids were last week forced to evacuate their rental home after a SWAT team arrived to arrest their neighbour who had an AR-15 and a reported hostage.
Dean was recently spotted at a welfare centre, where he was holding hands with his apparent new girlfriend, Lily Calo, 32.
Tori recently praised her children for their "kindness" and "empathy" in a social media post.
She posed with son Liam and daughter Stella before they attended their high school's dance, and captioned the snap: "I'm sorry, little Monkey and Buggy can't come to the phone right now. Why? … Oh, 'cause they're grown!
"Little mama had to get one pic with my babes. Forever in my eyes they'll appear their 2 and 3 year old selves with me holding their hands. Now, both taller than me. It happens!"
Tori went on to praise her eldest two children for their "kindness, empathy and confidence" and called them "wise and aware and just really cool humans".
She concluded her post: "Proud to be their mom. I trust these 2 because they are just good kids and GET IT! So filled with love and beaming with proudness as mama helps baby birds take flight. No doubt these 2 will soar! And, best of all, they deserve to!"
It's been widely reported the actress has been struggling with money following her reported separation from Dean, who announced their split in June in a now-deleted social media post, following 17 years of marriage to Tori.
The split came one month after the actress revealed her kids were ill from "extreme" mould in their rental home.
It resulted in her first checking her family into a $100-per-night motel before moving them to an RV in August.