Hugh Jackman 'devastated' over shock split from wife Deborra-Lee Furness
A day after the couple stunned fans by announcing their supposedly rock-solid marriage was over, sources say Hugh Jackman is "devastated" and "very sad" over his break from wife Deborra-Lee Furness.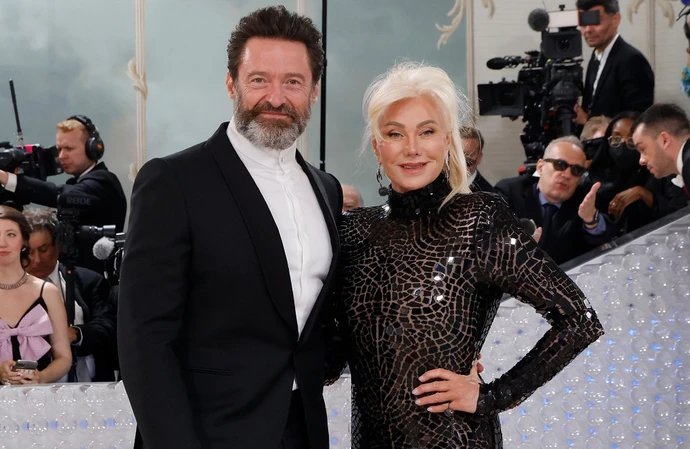 Hugh Jackman is said to be "devastated" by his split from his wife Deborra-Lee Furness.
The 'Wolverine' actor, 54, and his 67-year-old partner, who wed in 1996 and have two adoptive kids – Oscar Maximilian Jackman, 23, and 18-year-old Ava Eliot Jackman – announced on Friday (15.09.23) in a joint statement they were breaking up, and told fans they felt "blessed" for the time they had together.
A source close to the actor has now told Page Six he is reeling from the separation and feels "very sad".
Hugh had previously declared it was love at first sight with Deborra-Lee and said he knew he wanted to marry the 'Shame' actress weeks after meeting her.
He said on the 'Today' show in 2018: "I knew two weeks into meeting Deb that we were going to be together for the rest of our lives."
Their marriage was considered one of the most stable in showbiz, but they stunned fans by issuing a joint statement to People announcing their separation.
It said: "We have been blessed to share almost three decades together as husband and wife in a wonderful, loving marriage.
"Our journey now is shifting and we have decided to separate to pursue our individual growth.
"Our family has been and always will be our highest priority. We undertake this next chapter with gratitude, love, and kindness.
"We greatly appreciate your understanding in respecting our privacy as our family navigates this transition in all of our lives."
The pair signed off as "Deb and Hugh Jackman" and concluded: "This is the sole statement either of us will make."
They met on the set of TV series 'Correlli' in their native Australia in 1995 and their marriage was thought to be one of the strongest in showbiz.
The former couple were regularly spotted out together, including on rides around New York City in scooters and swimming in the Hamptons.
One of 'The Greatest Showman' star Hugh's last Instagram posts with his now-estranged wife was when they attended the Met Gala together in May.
It is unclear at the moment why they decided to split so soon after the getaway.
But they often faced trolling over their 13-year age-difference.
In 2014, Deborra said she felt it was an insult to tell her that she was "lucky" to be married to the younger actor.
She told Woman's Weekly: "That to me is a putdown. (It's) like you suggesting I won (a)… raffle. I think we create our own destiny.
"When people look at my life, they don't know the challenges (I face), just like I don't know someone else's (challenges.)"