Shane MacGowan's wife thanks celeb pals for hospital visit
Shane MacGowan's wife Victoria has thanked the Pogues star's celebrity friends Imelda May, Daniel O'Donnell and Bobby Gillsepie for visiting him in hospital following his battle with viral encephalitis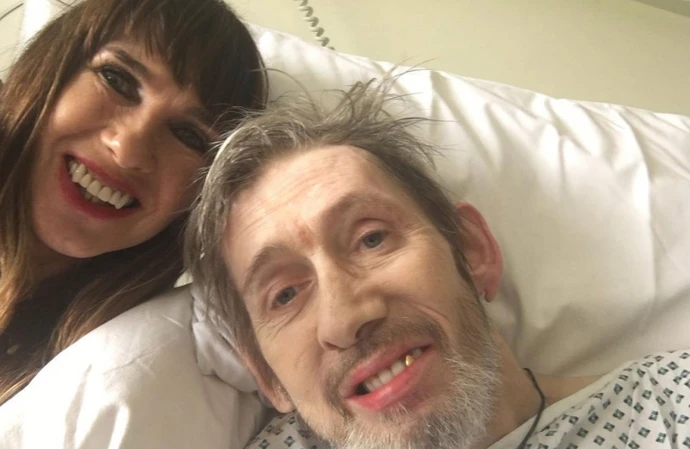 Shane MacGowan's wife Victoria has thanked her husband's celebrity friends for visiting him in hospital.
The 65-year-old frontman of The Pogues was admitted to an intensive care unit last year and diagnosed with viral encephalitis – a deadly infection which can cause brain damage and life-threatening complications – and is believed to have endured several subsequent stints under the care of doctors in recent months.
Victoria, who married the rocker in 2018, has now revealed he's been visited by stars including Imelda May, Daniel O'Donnell and Bobby Gillsepie.
In a post on Instagram, she thanked singer Imelda for giving Shane a preview of her new play 'Mother of All the Behans', writing: "Thank you so much to the beautiful @ImeldaOfficial for cheering up Shane MacGowan and giving us a sneak preview of your show about Kathleen Behan at the 3olympiatheatre."
In a previous post, she also revealed Shane had been visited by singer Daniel O'Donnell and Primal Scream's Bobby Gillsepie. Victoria wrote: "Thank you Daniel O'Donnell and Bobby G for visiting Shane MacGowan. You are so kind and thoughtful and it's so helpful. Prayers for everyone who is in hospital!! And immensely grateful to all the staff!"
In a post shared on the social media site last month, Victoria opened up about the "scary" health issues her husband has been facing. She wrote: "A lot of the time life goes on as normal but sometimes things happen to shake things up and not necessarily in ways that you want!
"We have had some pretty scary health challenges in our family recently and it has been showing me that the idea of just trusting and going with the flow is not easy!!!
"The natural reaction for most of us when we are in a scary situation and a loved one is in danger of dying is to totally freak out and imagine the worst and it can be hard to stay positive and stay calm and strong and not collapse in a blubbering heap! But I have noticed that if you allow yourself to cry and to feel all of the fear and even to collapse and you don't judge yourself for your feelings and you have compassion for yourself and everyone else around you even in the really dark moments it's like that is the real meaning of going with the flow.
"Trusting that things will somehow work out doesn't mean you have to pretend that you are not afraid. ... "
She added: "When you feel love in your heart you stay focused in the present instead of worrying about the future. And you literally take heart from the love that you feel for your special person and also for all of the doctors and nurses and staff and your family and friends and everyone around you. It's not really a challenge that we want to invite into our lives but you can be surprised by what comes out of it when you stay open to the possibilities!
"Love and gratitude for so many prayers and so much support for @shanemacgowanofficial."