Aisle be back! Arnold Schwarzenegger becomes unlikely face of Lidl's DIY brand
In a nod to his past as a bricklayer, Arnold Schwarzenegger has signed up to be the ambassador for discount retailer Lidl's DIY brand.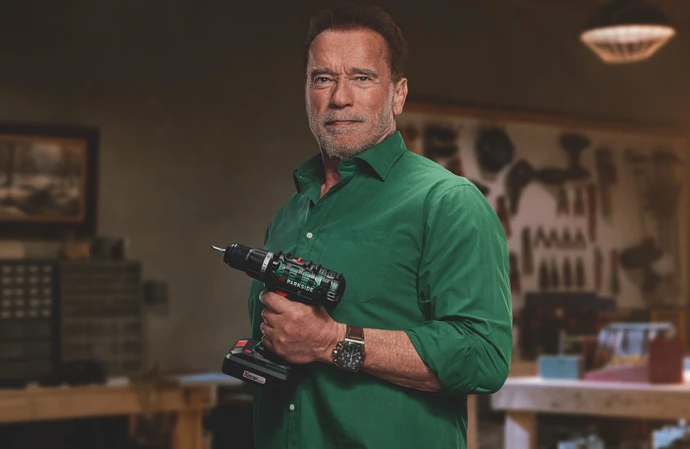 Arnold Schwarzenegger is the unlikely face of Lidl's DIY brand.
The 'Terminator' actor, 76, who was a former bricklayer, appears in an advert as the spokesman for the discount brand's Parkside range, which includes a £24.99 angle grinder and a plasma cutter for nearly £150.
He says in the promo, titled 'Parkside – You got this!', which references his 'Terminator' and bodybuilding past: "I'm here to talk about the tools of success.
"Everything I've ever built was because I had the power in the palm of my hands."
The clip then shows him chucking a power drill at a weedy man in a garage workshop who is dressed in a white vest.
Arnie continues as he speaks to kids in a playground: "I was not afraid to fail – to think outside the box. I built a new box!"
In a nod to his role as a killer cyborg in James Cameron's 1984 'Terminator' Arnie is also seen in sunglasses that flash up a robot-style list of coordinates as he declares: "A plan is only as great as the tools you use to execute it.
He goes on to use an angle grinder and creates a wooden sculpture of himself in a garden in the shape of him posing for a bodybuilding contest, and tells
a fellow gardener using a leaf blower: "Success means having the power to do it yourself – the muscles scare the birds.
"You got this!"
The ad ends with him training the skinny man he threw a drill to by spotting him on a weights bench, before he tells him: "Now let's build another bench – come on!"
The Parkside collection being fronted by the Hollywood veteran has more than 100 products included tools, gardening equipment and accessories.
Lidl said: "DIY is for everyone – that's what Parkside is all about. The brand is especially aimed at all those who like to repair, build and garden."
Arnold added in a statement: "'You got this' – that's exactly my attitude. You have to believe in yourself, that's why I'm a Parksider."
Lidl has previously partnered with Paris Hilton, Christina Aguilera, Rita Ora and Heidi Klum, and it said it chose Arnold as its latest brand ambassador as he was a fit for the Parkside "'roll your sleeves up' mentality".