Bruised and wheelchair-bound Tori Spelling discharged from hospital after four-day treatment for mystery illness
After telling fans she had been in an emergency unit for four days suffering an unknown ailment, Tori Spelling has been released from hospital in a wheelchair and covered in bruises.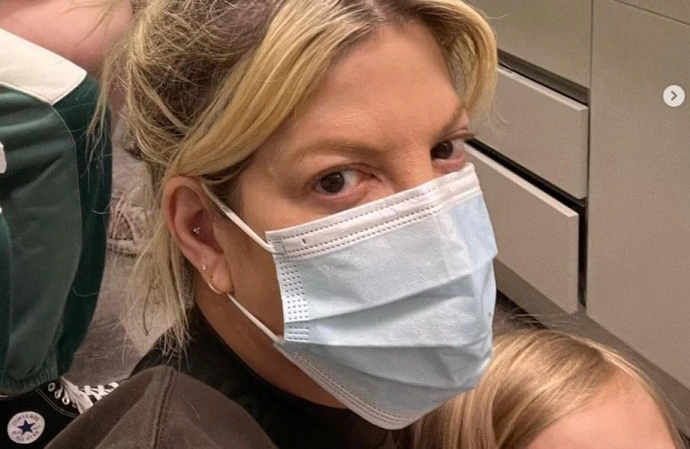 Tori Spelling has been released from hospital in a wheelchair and covered in bruises.
The 'Beverly Hills, 90210' actress, 50, was discharged from a Los Angeles emergency ward on Sunday (20.08.23) hours after revealing to fans she had been there for four days suffering a mystery illness.
Photos and video obtained on Monday (21.08.23) by Page Six, a casually dressed Spelling could be seen with bruising on her face and both arms, as she was escorted to a black SUV in a wheelchair.
The outlet said she "appeared distraught and unsteady" and "needed assistance getting up from the wheelchair".
Before being ushered into the backseat of the vehicle, she hugged one of a group of masked women who were with her, believed to be nurses.
The actress – who has been living in a motel and motorhome with her five children after apparently falling on hard times – updated her fans on her health woes on Sunday by posting an image on Instagram showing her in hospital with a drip in her arm.
She said in one of two captions overlayed on the snap – which also showed her patient wristband with an admission date of August 17: "4th day her and I'm missing my kiddos so much… ."
Tori added the message at the bottom of the picture: "Grateful and so proud of my strong, brave, resilient, and kind to the core children who remain positive no matter what comes our way."
The actress' hospitalisation came one day after she was spotted filming an unknown project in Beverly Hills on Wednesday.
She was photographed looking polished on set in a red pantsuit styled with a black lace camisole.
Tori started shooting weeks after she was snapped living in a motorhome on camping grounds in Ventura, California, with her five children Liam, 16, Stella, 15, Hattie, 11, Finn, 10, and six-month-old Beau.
Before the move, Tori and her children had moved into a $100-a-night motel in LA to escape a toxic mould infestation at their family mansion she said had left her and her kids needing hospital treatment.
Tori is rumoured to have split from her estranged husband Dean McDermott after the 'Due South' actor, 56, said online in June after their 17 years of marriage: "It's with great sadness and a very very heavy heart that after 18 years together and 5 amazing children, that @torispelling and I have decided to go our separate ways, and start a new journey of our own.
"We will continue to work together as loving parents and guide and love our children through this difficult time."