Madonna unveils rescheduled Celebration Tour dates
Madonna has had to cancel five North American tour dates and changed some venues.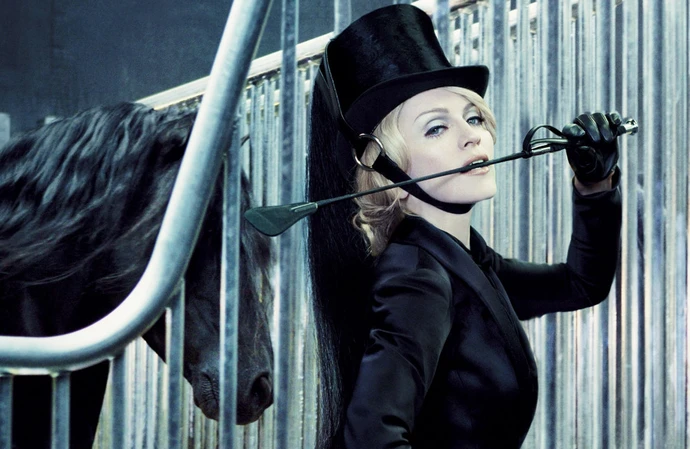 Madonna has unveiled her new set of North American 'Celebration' tour dates, which will now take place after the UK and Europe leg.
After it was reported that The Queen of Pop had restarted rehearsals for the postponed jaunt following her hospitalisation on June 4 for a "serious bacterial infection", the 'Vogue' hitmaker has unveiled her rescheduled run.
The tour will commence with four sold-out shows in London, kicking off on October 14.
Madonna, 65, will then head to Belgium, Denmark, Sweden, Spain, Portugal, France, Germany, Italy, and the Netherlands.
The North American leg will begin on December 13 at Brooklyn's Barclays Center.
There have been some venue changes and, unfortunately, some dates have had to be cancelled.
In New York, fans holding tickets to the previously scheduled Madison Square Garden concert on August 27, will have an exclusive opportunity to purchase tickets to the newly added Barclays Center performance on December 16.
The following shows are no longer going ahead: July 27 in Tulsa, December 22 in Nashville, January 15 in San Francisco, January 18 in Las Vegas, and January 20 in Phoenix.
Refunds will be offered at the point of purchase.
A press release noted that: "Getting all shows rescheduled was the number one priority. Unfortunately, due to scheduling conflicts, a few shows noted below will be cancelled. Madonna regrets the inconvenience to fans and hopes to make it up to those markets in the future."
The amended tour dates come after The Sun reported Madonna had once again set up camp at the Nassau Coliseum in New York and booked out the venue for two months for her rehearsals.
Music insiders added she hired a "top-secret UK venue" to rehearse at the night before her first night in London.
Madonna told fans in July – a month after she was hospitalised – she was "lucky to be alive".
She wrote: "Love from family and friends is the best Medicine. One month out of the hospital and I can reflect.
"As a Mother you can really get caught up In the needs Of your children and the seemingly endless giving……….. But when the chips were down my children really showed up for me. I saw a side to them I had never seen before. It made all the difference.
"So did the love and support from my friends. If you zoom into this Picture I am holding You will see A Polaroid taken by Andy Warhol of Keith Haring wearing a jacket with Michael Jackson's face painted on it. A perfect triangle of Brilliance.
"Artist who touched so many lives including my own.
"I sobbed when I opened this gift because I realized how lucky I am to be alive. And how fortunate I am to have known these people and so many others who are also gone.
"Thank you @guyoseary for this gift! And Thank you to all my angels who protected me and let me Stay to finish doing my work! (red heart emoji.)"
Mum-of-six Madonna was rushed to hospital after being found unresponsive in her New York home.
It was later rumoured she had "exhausted" herself while training for the tour.
'The Celebration Tour' dates are:
December 2023
13 – Barclays Center, Brooklyn, NY
14 – Barclays Center, Brooklyn, NY
16 – Barclays Center, Brooklyn, NY
18 – Capital One Arena, Washington DC
19 – Capital One Arena, Washington DC
January 2024
8 – TD Garden, Boston, MA
9 – TD Garden, Boston, MA
11 – Scotiabank Arena, Toronto, ON
12 – Scotiabank Arena, Toronto, ON
15 – Little Caesars Arena, Detroit, MI
18 – Bell Centre, Montreal, QC
20 – Bell Center, Montreal, QC
22 – Madison Square Garden, New York, NY
23 – Madison Square Garden, New York, NY
25 – Wells Fargo Center, Philadelphia, PA
29 – Madison Square Garden, New York, NY
February 2024
1 – United Center, Chicago, IL
2 – United Center, Chicago, IL
8 – Rocket Mortgage FieldHouse, Cleveland, OH
13 – Xcel Energy Center, Saint Paul, MN
17 – Climate Pledge Arena, Seattle, WA
18 – Climate Pledge Arena, Seattle, WA
21 – Rogers Arena, Vancouver, BC
24 – Golden 1 Center, Sacramento, CA
27 – Chase Center, San Francisco, CA
28 – Chase Center, San Francisco, CA
March 2024
1 – T-Mobile Arena, Las Vegas, NV
2 – T-Mobile Arena, Las Vegas, NV
4 – Kia Forum, Los Angeles, CA
5 – Kia Forum, Los Angeles, CA
7 – Kia Forum, Los Angeles, CA
9 – Kia Forum, Los Angeles, CA
11 – Kia Forum, Los Angeles, CA
13 – Acrisure Arena, Palm Desert, CA
16 – Footprint Center, Phoenix, AZ
19 – Ball Arena, Denver, CO
24 – American Airlines Center, Dallas, TX
25 – American Airlines Center, Dallas, TX
28 – Toyota Center, Houston, TX
29 – Toyota Center, Houston, TX
April 2024
1 – State Farm Arena, Atlanta, GA
4 – Amalie Arena, Tampa, FL
6 – Kaseya Center, Miami, FL
7 – Kaseya Center, Miami, FL
14 – Moody Center, Austin, TX
15 – Moody Center, Austin, TX
20 – Palacio De Los Deportes, Mexico City, MX
21 – Palacio De Los Deportes, Mexico City, MX
23 – Palacio De Los Deportes, Mexico City, MX
24 – Palacio De Los Deportes, Mexico City, MX