Michael Douglas' son brands him 'embarrassing' and 'out of touch'
Despite being one of Hollywood's biggest icons, Michael Douglas has been branded "embarrassing" by his son Dylan.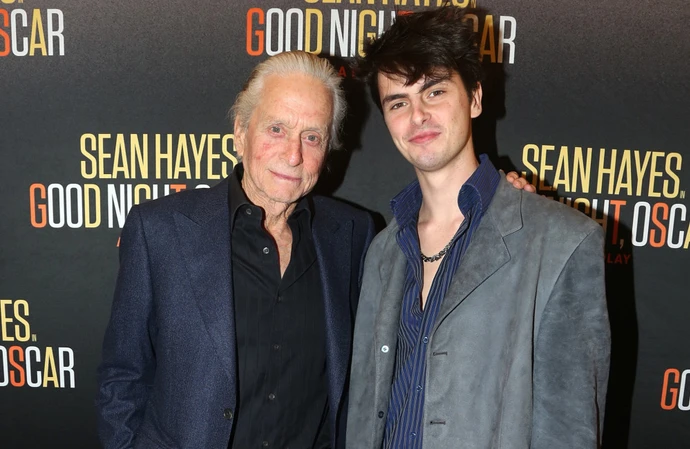 Michael Douglas has been branded "embarrassing" by his son Dylan.
The 78-year-old 'Fatal Attraction' star's boy, 22, who he has with his wife of 23 years Catherine Zeta-Jones, 53, said the actor's cringeworthy moments mainly come from bad "dad jokes" and being out of touch.
Dylan told Page Six at the Broadway opening of 'Good Night, Oscar' about how Michael "can be embarrassing sometimes": "More in terms of what he says, rather than who he is.
"Just dad stuff. (He's a) bit out of touch – bad jokes for sure!"
Michael was with Dylan at the Broadway opening to support the show's star Sean Hayes, 52, who he knows from his time doing a cameo on 'Will and Grace', playing a detective attracted to Will, played by Eric McCormack, 60.
Sean plays real-life concert pianist and actor Oscar Levant in the show, and was famous for being one of the first celebrities to talk openly about his struggles with mental health.
Along with Dylan, Hollywood power-couple Michael and Catherine have daughter Carys, 20.
Michael also has son Cameron, 44, from a previous marriage.
He met Catherine at the 1998 Deauville Film Festival where the actor was promoting 'A Perfect Murder', while Catherine was plugging 'The Mask of Zorro.'
Michael, who married Catherine in 2000, famously told her: "I want to father your children."
Other stars at the 'Good Night, Oscar' event included Sean's 'Smartless' podcast co-host Jason Bateman, as well as Matt Damon, John Krasinski, Steven Spielberg, Cynthia Nixon, LaChanze, Steve Martin, Justin Theroux, Martin Short, Matthew Rhys and Matthew Broderick.