'I just ran out of juice!' Why Robbie Williams had to use frozen sperm for his kids
Robbie Williams admits that his last two children were conceived using frozen sperm and had to be born via surrogate because he "ran out of juice."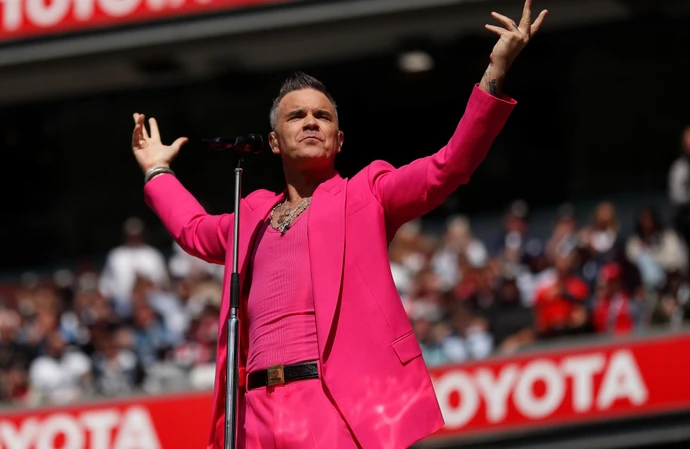 Robbie Williams and Ayda Field used a surrogate because he "ran out of juice".
The 49-year-old pop star is married to actress Ayda Field and has Teddy, 10, Charlie, eight, Coco, four, and three-year-old Beau with her but explained that the two youngest children had to be conceived using frozen sperm.
He is quoted by the Daily Star newspaper as saying: "I'll put it this way: I ran out of juice! We had sperm and eggs frozen because we wanted to have more after our first two wonderful children. And now that they're in the world, I know even more what a gift it is."
The former Take That star also spoke of how he is in a "safer and healthier place" than when he was in his 20s since marrying Ayda in 2010 and went on to add that they will "always be grateful" to the woman
He added: "The surrogate was a very special woman, one of the most amazing people I have ever met in my life. We are forever grateful to her."
The revelations come just days after the 'Rock DJ' hitmaker explained that even though he and his wife have sold their houses in Los Angeles, Switzerland and Wiltshire, South West England, and had been planning to relocate back to London, they have now had a change of heart about the situation.
According to The Sun newspaper, Robbie said in Germany this week: "We don't want to live in California all the time.
"It's just not the best place in the world to be raising teenagers and we're going to have four teenagers eventually. Life is too fast there. I grew up too fast.
"There are too many ways to grow up even quicker. We want to avoid that.
"I don't want to be in England all year round either. I'm just too famous there. I wish I could be as safe in my bubble as my kids are in theirs.
"So the rest of the world remains for us. We haven't decided where we want to live yet, but the question is on our minds."