Paul Mescal sends poignant message to cancer-stricken mum as he picks up first Olivier Award: 'I hope you get better'
Paul Mescal paid tribute to his cancer-stricken mum Dearbhla as he picked up his Best Actor Olivier Award for his powerhouse perfomance as Stanley Kowalski in 'A Streetcar Named Desire' by telling her: "I hope you get better."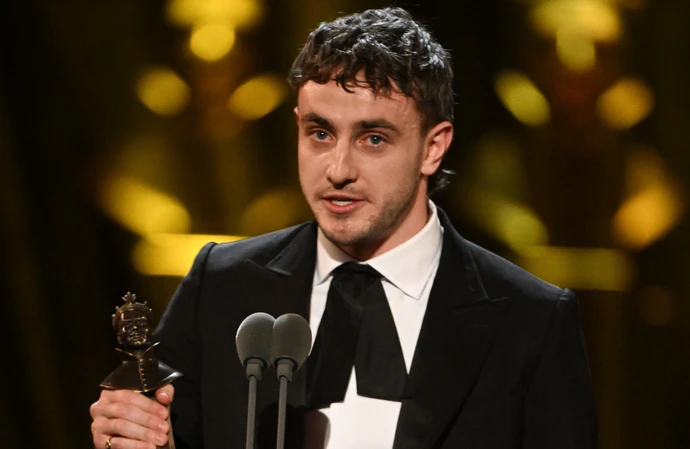 Paul Mescal told his cancer-stricken mum Dearbhla he hopes she "gets better" as he collected his first Olivier Award.
The 'Normal People' actor, 27, won Best Actor on Sunday (02.04.23) for his powerhouse perfomance as Stanley Kowalski in 'A Streetcar Named Desire' after the Tennessee Williams revival had a sell-out run at London's Almeida Theatre.
Addressing his mum as he picked up his gong on stage at the Royal Albert Hall in the capital, he said: "I hope you get better."
Dearbhla had told her followers on social media in July 2022 she was receiving treatment after a cancer diagnosis, saying she was starting to learn to "live with" the disease.
'Killing Eve' actress Jodie Comer, 30, was the other big winner of the night, picking up Best Actress for her role in the one woman play 'Prima Facie' about her lawyer character being raped, which was also awarded Best New Play.
She said in her speech: "I'm so overwhelmed. This play has changed my life. I am so grateful and I have so many people to thank.
"To Suzie Miller for writing the most exquisite play I have ever had the pleasure of reading – one thing I would like to say to any kids who haven't been to drama school, who can't afford to go to drama school, who has been rejected from drama school, don't let anyone tell you that it isn't possible.
"It might take the stars to align and you to be met with generous, kind, patient people but it is possible.
"Mum, Dad, I love you, and my Grandad is 82 today so happy birthday."
The play is getting a Broadway run this month after its critically-acclaimed showings at the Harold Pinter Theatre.
Jodie had told the Press Association before the ceremony: "It's incredible. I could never have dreamed of the response and reaction (to the play), it really does feel as though the audience has become so much a part of this as we are.
"It's so incredibly heart-warming to be in the theatre every night and feel the presence of everyone and the energy kind of shared so I'm so excited, I feel very lucky that I'm able to revisit it."
Paul's 'Streetcar' co-star Anjana Vasan, 36, was awarded Best Supporting Actress gong for her performance as Stella Kowalski in the play, while Best Supporting actor went to Will Keen, 53, for 'Patriots', which dissects Russian dissidence by 59-year-old 'The Crown' writer Peter Morgan.
Best Director was awarded to Phelim McDermott, 59, for his adaptation of Studio Ghibli's 1988 animated film 'My Neighbour Totoro'.
And former 'Strictly Come Dancing' judge Dame Arlene Phillips, 79, said it was "incredible" to get 2023's 'Special Award' honouring her long stage career.
She told PA: "I know, ultimately, it means yes, I'm getting old and I've done a lot of musicals but actually to come all together for a lifetime award is so, so special.
"I never thought one of the things I would ever hold is an Olivier award, it's just amazing.
"My satisfaction is not about getting an award – it's just knowing the shows I do have the power to make people smile.
"That has been my treasure, my pleasure. But actually being awarded an Olivier because of the collectively of all those shows means everything."
Olivier Awards 2023 – Full List of Winners
Best Entertainment or Comedy Play
'My Neighbour Totoro at Barbican Theatre'
Best Family Show
'Hey Duggee' – The Live Theatre Show at Royal Festival Hall at Southbank Centre
Best Theatre Choreographer
Matt Cole – 'Newsies' – Troubadour Wembley Park Theatre
Best Costume Design
Kimie Nakano – 'My Neighbour Totoro' – Barbican Theatre
Best Revival
'A Streetcar Named Desire' – Almeida Theatre
Best Musical Revival
Rodgers and Hammerstein's 'Oklahoma!' – Young Vic
Best Sound Design
Tony Gayle – 'My Neighbour Totoro' – Barbican Theatre
Best Original Score or New Orchestrations
Richard Hawley and Tom Deering – Music and Lyrics by Richard Hawley and Orchestrations by Tom Deering – 'Standing at the Sky's Edge' – National Theatre
Best Actor in a Supporting Role
Will Keen – 'Patriots' – Almeida Theatre
Best Actress in a Supporting Role
Anjana Vasan – 'A Streetcar Named Desire' – Almeida Theatre
Best Set Design
Tom Pye – 'My Neighbour Totoro' – Barbican Theatre
Best Lighting Design
Jessica Hung Han Yun – 'My Neighbour Totoro' – Barbican Theatre
Best Actress in a Supporting Role in a Musical
Beverley Knight – 'Sylvia' – The Old Vic
Best Actor in a Supporting Role in a Musical
Zubin Varla – 'Tammy Faye' – Almeida Theatre
Best New Opera Production
'Alcina' by Royal Opera – Royal Opera House
Outstanding Achievement in Opera
William Kentridge for his conception and direction of 'Sibyl' – Barbican Theatre
Best Actor in a Musical
Arthur Darvill for Rodgers and Hammerstein's 'Oklahoma!' – Young Vic
Best Actress in a Musical
Katie Brayben – 'Tammy Faye' – Almeida Theatre
Best New Dance Production
'Traplord' by Ivan Michael Blackstock at 180 Studios (The Strand)
Outstanding Achievement in Dance
Dickson Mbi for his choreography of 'Enowate' – Sadler's Wells
Outstanding Achievement in Affiliate Theatre
'The P Word' – Bush Theatre
Best Director
Robert Hastie for 'Standing at the Sky's Edge' – National Theatre
Best Actress
Jodie Comer for 'Prima Facie' – Harold Pinter Theatre
Best Actor
Paul Mescal for 'A Streetcar Named Desire' – Almeida Theatre
Best New Play
'Prima Facie' – Harold Pinter Theatre
Best New Musical
'Standing at the Sky's Edge' – National Theatre