Katie Price and Carl Woods reconcile
Katie Price and Carl Woods are back together, according to her son Harvey Price.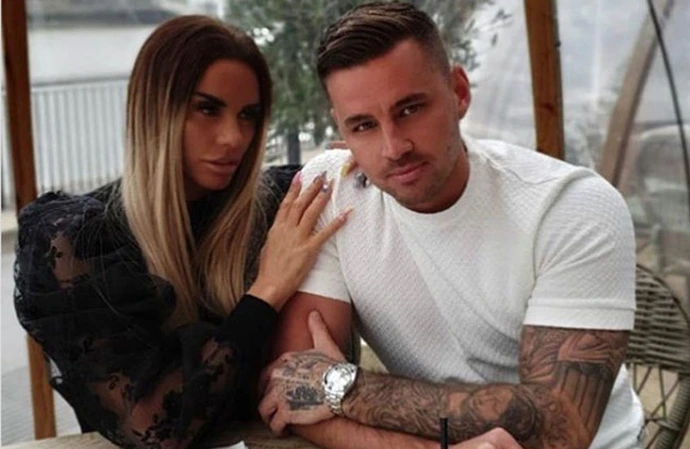 Katie Price and Carl Woods are back together.
The on/off couple appear to have reconciled with Katie's son Junior confirming the news with a sweet note, which his mother posted to Instagram.
The picture shows Katie, 44, and Junior, 20, sharing a sweet kiss, with Junior's note reading: "To the best family, mummy and Carl Woods. Best family ever. To mummy. Best beautiful mummy. Happy Easter. Love you mummy, a lot."
Katie captioned the image: "Harvey just sent this he is so adorable I love him so much only two more sleeps until he comes home for Easter."
News of the reconciliation comes just weeks after Katie insisted she was happy to be single and wanted to focus on her kids, Harvey, Junior, 17, Princess, 15, Jett, nine, and Bunny, eight and her work.
She told OK! magazine last month: "I like being on my own. I'm single and love my own space. I'm just enjoying time with the kids and I want to throw myself into work.
"I'm in the right headspace and I will never, ever go back to my low point. I'm going to shock everyone. I'm going to turn everything around and just be bigger and better than ever. Watch this space. And never underestimate the Pricey."
Katie went into rehab in 2021 after being involved in a drink-driving crash while banned from being behind the wheel, but has been having weekly therapy and now feels better than ever.
She added: "As much as people love or hate me, it's true that no matter how much I get knocked down, I always end up coming back up.
"My mind is in the right place. I need to bring the Pricey empire back. I want to bring back the perfumes, the underwear, the swimwear, the pyjama range. And I will do it. I feel in control.
"Sometimes you have to experience the lows to be able to enjoy the highs. The sessions help. Sometimes I think, 'I don't need it this week', but I still go and it makes me feel better.
" I've nearly finished my community service, so once that's done, I can start fresh. I don't want any more drama in my life!"