THE JURY'S OUT! Gwyneth Paltrow's ski crash jurors consider verdict after lawyer demanded $3.3MILLION in damages
Gwyneth Paltrow's ski crash trial jury has been sent to reach a verdict after two weeks of fiery – and at times bizarre – testimony, which ended with brutal closing arguments on both sides.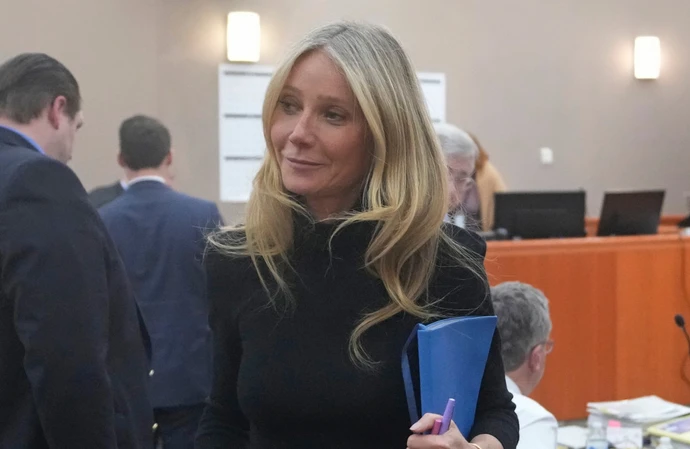 Gwyneth Paltrow's ski crash trial jury has been sent to reach a verdict after two weeks of fiery and occasionally bizarre testimonies ended with brutal closing arguments.
The Goop founder, 50, is denying claims by retired army optometrist Dr Terry Sanderson, 76, she ploughed into him at the Deer Valley resort, Utah, in 2016 before she allegedly "bolted" and left him with permanent brain damage.
'Sliding Doors' actress Gwyneth now infamously declared when she took the stand at Park City Court in Utah the incident caused her the inconvenience of losing "half a day of skiing".
She also told how she initially feared Dr Sanderson was launching a "perverted" assault on her when they collided as she heard "strange grunting" and her legs were forced apart during the crash.
Only six of the jury, which left the court on Thursday (30.03.23), have to agree on each question at hand before they can move on to the next as they decide whether Dr Sanderson was left with "permanent traumatic brain injury, four broken ribs, pain, suffering, loss of enjoyment of life, emotional distress and disfigurement".
In closing arguments, the former medic's attorney Peter Sorensen stated: "There are two stories here. One is Gwyneth Paltrow's. But there's another side and that is Terry Sanderson's.
"The two stories that are important to remember are Gwyneth Paltrow's and Terry Sanderson's. I will tell you that what you see in the record, corroborates Terry Sanderson's."
Mr Sanderson's legal team stressed mum-of-two Gwyneth was "not a liar" but declared she is wrong about what she believes happened during the incident seven years ago.
Robert Sykes told jurors the Oscar-winning 'Shakespeare in Love' star's views on the collision were "sincerely expressed", but incorrect, adding: "Gwyneth Paltrow in this case is not a liar. Terry Sanderson is not a liar.
"Gwyneth is a good person. She is a good mother and she loves her children and she is passionate about things.
"I think that she believes, and I believe Gwyneth Paltrow when she says, 'Terry hit me in the back'. It's a sincere belief but the problem is a sincere belief doesn't make it so.
"So often people that are in these types of events have totally different viewpoints.
"We don't hold anything against Gwyneth for her viewpoint – it's sincerely expressed, but she's wrong based on the evidence. And Terry is correct."
He said about the apparent aftermath of the incident still being suffered by Dr Sanderson: "Terry has tried to get off that mountain but he's really still there. Part of Terry will forever be (there.):
He ended by urging the jury: "We hope you will help bring Terry home off that mountain with a fair verdict today."
Lawrence Buhler who represented Dr Sanderson – who is suing Gwyneth for $300,000 – previously suggested the jury award him damages of $3.3 million.
Mr Buhler explained his working after writing on a board in court, saying: "Sixteen hours a day, times 365 days a year – Terry is likely to live another 10 years, though we hope he lives a lot longer – that's 17 years.
"Sixteen times 365, times 17, times – I'm going to say 33 dollars (£26). This equation is $3,276,000."
James Egan, who is part of Gwyneth's legal team, said: "Ms Paltrow wants (Terry Sanderson) off the mountain too – but she does not want to be responsible for the cost."
The defense added in their closing arguments at the packed courthouse Dr Sanderson is still in good health and is not suffering as much cognitive decline as he says he is, and said "moving on" would be "good for him".
They also argued Gwyneth should not be forced to pay a "ransom" over the crash and said she had shown "courage" by attending court for the two-week trial where they said she had become a "punching bag".
Gwyneth's attorney Stephen Owens said: "It takes a lot of courage does it not? (Dr Sanderson's) life has been laid open – that's because of him. He hit her. He hurt her and he wants three million dollars for it.
"That's not fair. The easy thing for my client would have been to write a cheque and be done with it – but what does that tell her kids?"
"It's wrong, it's actually wrong that he hurt her and he wants money from her."
Gwyneth denied "bolting" from the scene of the accident but admitted screaming at Dr Sanderson: "You skied into my f*****g back!" and says he caused the collision.
Mr Owens said about her outburst: "Gwyneth is p***** off. If you hit someone do you yell at the person you just hit? No. The hittee – is usually the unhappy one."
He went on: "This is a meritless claim. You don't throw a three-million-dollar bombshell in the courtroom, call her (Gwyneth) King Kong, and walk away. You shouldn't reward that."
The trial has heard from ski slope staff and experts who speculated Dr Sanderson's may be symptoms of his long-term depression and possibly dementia – though his daughter and a friend were among those who testified he was now a different person due to the trauma of the accident.
Gwyneth – whose children Apple and Moses were 11 and 9 respectively at the time of the ski accident – faced claims she had been distracted on the slopes by her youngest yelling: "Mommy, Mommy watch me ski," before the crash, but this was denied in court.
The actress is countersuing Dr Sanderson for a token $1 in damages and wants her legal fees covered.
Mr Owens said: "We ask you for the dollar not because she had to go in and get an early massage, but because it screwed up a very carefully planned time in her life. We want our dollar."