Paul Mescal: Phoebe Bridgers split is 'difficult' to talk about
'Normal People' actor Paul Mescal wants to tell people to "shut the f***" up about his relationship status and rumours of a split with Phoebe Bridgers.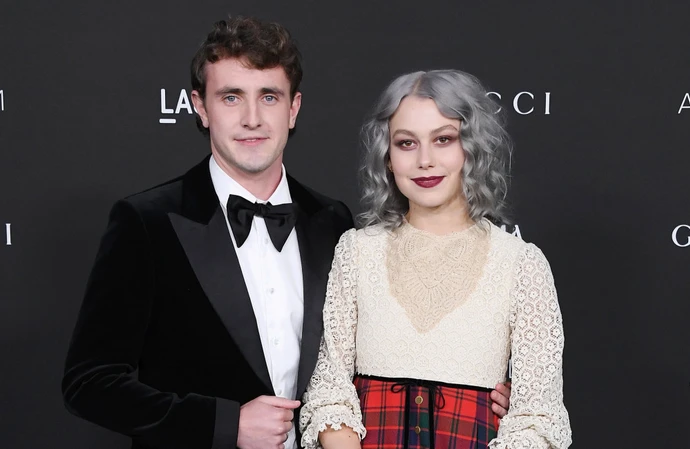 Paul Mescal says it's "difficult" to discuss his split from Phoebe Bridgers "right now".
After recently declaring that he wants people to "shut the f*** up" about his relationship status, the 'Normal People' actor hasn't ruled out addressing his breakup with the 28-year-old singer, who has since been linked to comedian Bo Burnham after she and Paul were rumoured to have split in December.
In an interview for The Hollywood Reporter, he said: "Maybe at some point, but just not now. It's just difficult territory. Yeah."
Paul recently refused to directly address the rumours of their split and said he wants to keep aspects of his personal life "private".
Asked about his thoughts on responding to the speculation, he told Vanity Fair magazine: "I definitely feel the temptation to say the status of my whatever — that will always be there.
"But I don't think that's a wise thing to do. When Normal People came out, I was very forthright in interviews, and it didn't actually serve me.
"But the temptation still exists to be like, 'Shut the f*** up. This is my life. This is what's going on. Or this is what's not going on.' But moving forward as much as I can, that's going to be my life that is private."
The 27-year-old star admitted while it's a tricky balance to strike when he's in the public eye, he is becoming more conscious of how much he gives.
He added: "That's a difficult thing to achieve. But giving strangers an answer about my life doesn't actually help me. It's like a quick boost of serotonin, being like, 'I've said what I need to say.' And then it's just Twitter fodder."
The 'Aftersun' star noted he can sometimes learn to ignore the noise but "other times" it gets to him, although he was also keen to point out how supporting a lot of people are of him and his career.
He said: "Sometimes I can drown it out and then other times it makes me really mad and upset.
"People are going to write and say things because there's a certain interest with any person who's in the public eye in how that person lives their life, and who they're living up with, and what they're doing and how they're going about doing it.
"And look, a lot of the time people are really kind about their support for me. That's my predominant experience."