Sam Smith leaves stunned fans wondering how they are going to use loo in balloon BRITs outfit
Sam Smith shocked fans by turning up for The BRIT Awards 2023 in a huge black inflatable bodysuit – leaving many of them pondering how he will use the toilet during the event.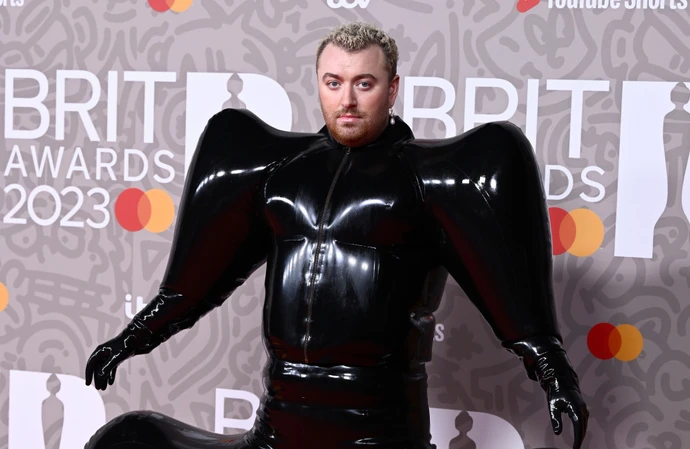 Sam Smith has left fans wondering how they are going to use the toilet at The BRIT Awards 2023 after they turned up for the ceremony in a huge black inflatable bodysuit.
The 30-year-old singer, who is non-binary and goes by the pronouns they/them, shocked guests when he walked the red carpet in the balloon-style black latex outfit and a pair of stacked black platform boots.
Footage of them in the cumbersome look, which they sported as they joined celebrity arrivals at The O2 Arena in London for the ceremony on Saturday (11.02.23), was almost immediately turned into memes by fans – many of whom joked they were going to struggle getting it on and off if they needed to use the loo.
Others pointed out the similarity between Sam's look and one sported by David Bowie in 1978 in a look dubbed his "parachute pants" due to the late singer's balloon-style striped trousers.
Floods of fans ridiculed Sam over the outfit, but many said it made them a "legend", while others joking they hoped their balloon-style trousers were filled with booze they could down during the event.
Sam, who is nominated in the Song of the Year and Best Pop/R+B categories at this year's BRITs, was among the artists who initially called for the its bosses to introduce gender-neutral categories and urged them to be "reflective of the society we live in".
The BRITs made the change and since 2022 they have not used gendered categories for their awards, instead combining the four male and female awards for UK and international artists into Best Artist and Best International Artist.
But Sam said they were left frustrated after this year's awards were widely criticised when no female artists were nominated for Best Artist 2023 category.
They added: "It's incredibly frustrating. It feels like it should be easy to do. (The BRITs) just have to celebrate everyone because this is not just about artists getting awards."
Harry Styles, 29, who regularly sports non-binary looks on red carpets, arrived for the BRITs in for an oversized black tuxedo featuring massive bootcut trousers, with a huge dark rose corsage attached to his massive lapels.