WWE legend Jerry Lawler flashes a thumbs up after 'massive stroke'
WWE legend Jerry 'The King' Lawler is expected to make a full recovery following a "massive stroke" earlier this week, although his speech is currently limited.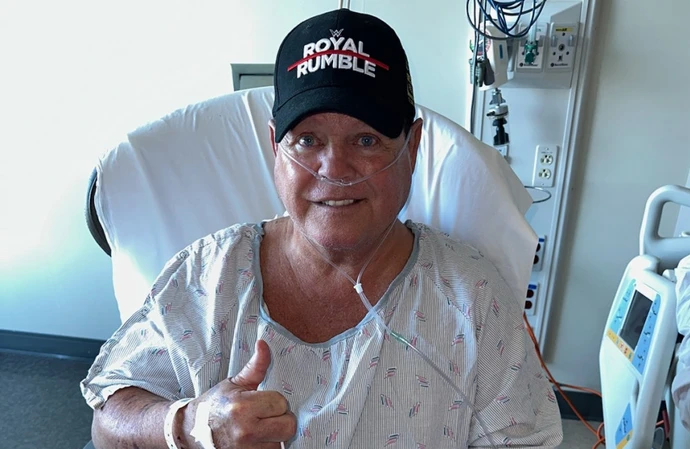 Jerry 'The King' Lawler is expected to make a full recovery following a "massive stroke".
The 73-year-old WWE legend is in hospital with limited speech following the incident on Monday (06.02.23) but now his representative has provided a positive health update.
Alongside photos of Lawler including one of him flashing a thumbs up to the camera, a representative tweeted: "Update on Jerry: After suffering a massive Stroke Monday. He is now recovering in a Fort Myers, FL hospital.
"His speech is limited, but with rehabilitation will regain a full recovery. He thanks everyone for the continued prayers and will be back in the near future."
The latest update on Lawler's recovery comes after his former longtime commentary partner Jim Ross revealed on Tuesday (07.02.23) that he had spoken to his friend after he was rushed to hospital.
Taking to Twitter, JR wrote: "I spoke very briefly with @JerryLawler tonight. He's obviously weak but I could understand his affected speech.
"Jerry's prognosis is positive but he needs all our thoughts and prayers. #LoveYaKing"
Lawler has dealt with heart issues in the past and he previously suffered a stroke in 2018, as well as suffering cardiac arrest while in the middle of a show while commentating live on air during an episode of WWE Raw in 2012.
The incident nearly cost him his life, but he has continued to wrestle into his 70s and even competed in 10 matches last year.
On January 21, he got in the ring again in a winning effort against the Beer City Bruiser for AML Wrestling in North Carolina.
And more recently, he appeared as part of the panel for WWE's Kickoff show before the Royal Rumble late last month, but it's been some time since he was a regular fixture on the Raw commentary team.