'I trusted you to pork my wife!' Adam22 speaks out after Jason Luv boasts he's 'better in bed' than him
Adam22 has "blacklisted" Jason Luv from having sex with his wife again after he bragged that he was "better in bed" following him shooting an adult movie with the podcaster's wife Lena the Plug.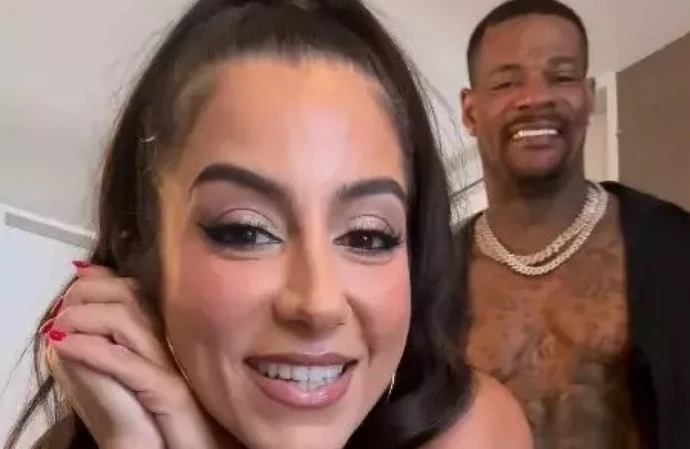 Adam22 has "blacklisted" Jason Luv from having sex with his wife again.
The 39-year-old podcaster had allowed his porn star spouse Lena the Plug to make an X-rated film with adult performer Jason, 38, but when he bragged that he had a "bigger penis" than her husband, Adam took to social media to threaten to "expose" Jason and urged him to "show some respect".
Speaking in a video uploaded to TikTok, he said: "Hey, Jason Luv. I trusted you to pork my wife and it sounds like that clout is getting to your head. You're talking real spicy and I ain't really feeling it.
"Number one - the angle of the dangle is more important than the cubic of the pubic. My D game, when I'm serving it, man it's just like your mom's home cooking because there's a special ingredient. It's called love. You ever heard of it?
"Number three - don't make me expose you. And you know what I'm talking about. It can get real real messy out here. Number four - you don't want problems moving around in these LA streets. Because I can make that happen, I'm very very well connected. And number five - you are officially blacklisted from smashing my wife again. Show some respect."
Adam also took to Twitter to acknowledge that whilst he was initially supportive of the situation, he was a "little jealous" to begin with but noted what an "amazing" career opportunity it was.
He tweeted: "It's officially been a week since I let my wife do a porn with another guy.
"I felt a little jealous at first but overall it wasn't that big a deal.
"She's watched me sleep with hundreds of girls and it's never affected our relationship. Sleeping with that gentleman has been amazing for both her career and our business @plugtalkshow!"
In an interview, Jason - who has boasted that "girth's my biggest genital asset" - admitted he would "absolutely" have a threesome with Adam and Lena if that could happen, but when asked if felt he was "better in bed" than Adam, he remarked that it was an "obvious" yes.
He told the Fan Bus: "Well, obviously, yes. But I'm pretty sure it probably felt different for her because love is involved and emotions, but as for the physical aspect of getting f*****, obviously yes!"