Lena the Plug set for group scene on OnlyFans
Adam22 and his porn star wife Lena the Plug have teased that she will be shooting a group sex scene for her OnlyFans account subscribers.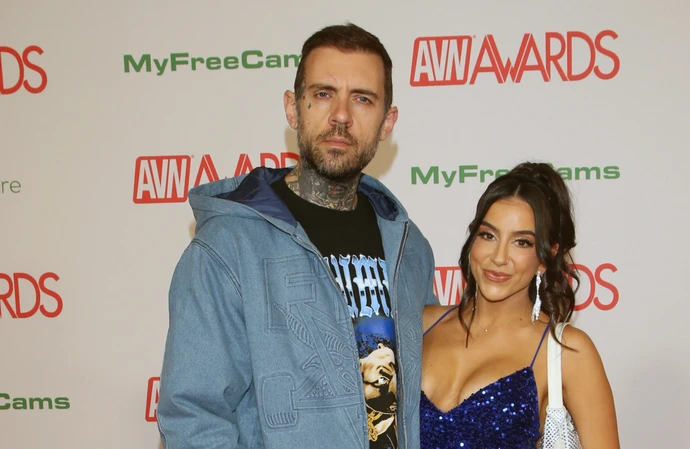 Adam22 has teased that his porn star wife Lena the Plug will release a sex scene with multiple men on her OnlyFans account.
The 39-year-old YouTuber shared an image of his 32-year-old spouse - whose real name Lena Nersesian - surrounded by five men, with the caption "It's time".
In a following post, Adam advertised the incoming scene: "Head on over to [our OnlyFans] so you don't miss this content when it drops".
The internet star married Lena in May 2023 after dating for seven years.
Lena went viral back in July this year after she filmed a scene with adult content creator Jason Luv.
Taking to X - previously known as Twitter - after Lena had completed the shoot, Adam posted online: "It's officially been a week since I let my wife do a porn with another guy. I felt a little jealous at first but overall it wasn't that big a deal.
"She's watched me sleep with hundreds of girls and it's never affected our relationship. Sleeping with that gentleman has been amazing for both her career and our business.
"Overall I'm glad we did it and I'm happy to report her vagina has returned to its original size."
Days after the post, Lena appeared on her husband's 'No Jumper' podcast to discuss the discomfort she was in after having sex with Jason.
She said: "I was in a lot of pain for a few days so having sex [with Adam afterwards] was you know, [he was] a little traumatized by me being like, 'Ouch, hold on.'"
Lena than claimed that the experience had made intimacy with her husband even better because it allowed him to "assert his dominance".
Jason, 38, also appeared on Adam's podcast and insisted his scene with Lena was "just a job" and made financial sense for them both.
He said: "It was just a job. She's high up in her ranks, I'm high up in my ranks, us two together would obviously make the most amount of money.
"It's two people coming and making an understanding. If you're cool with it, it is what it is."