North West reveals she wants to start dressing like mother Kim Kardashian
North West would like to start wearing her parents' clothes and reveals what she hopes to do in her future career when she grows up as part of the reality TV dynasty.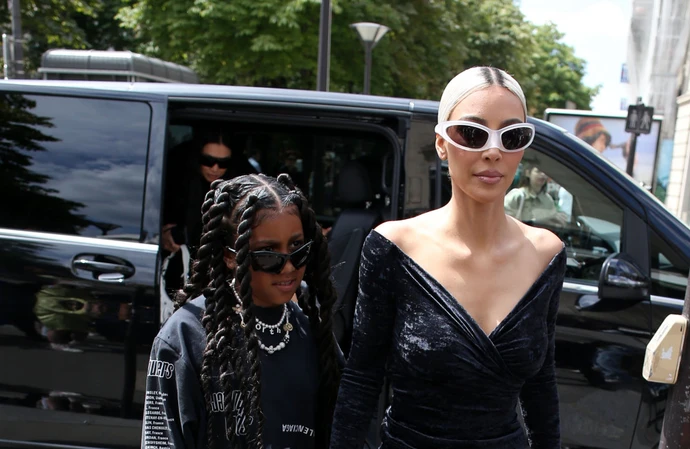 North West would like to start wearing her parents' clothes.
The 10-year-old is the daughter of reality superstar Kim Kardashian, 43, and her ex-husband Kanye West, and explained when asked what kind of clothing she would like to have, she would like to copy the style of her A-lister parents.
She told i-D magazine: "My mom's clothes and my dad's clothes, if they fit me."
North went on to reveal that her favourite style of clothing right now is "vintage T-shirts and Spider sweats" and when asked what her ultimate outfit is, revealed that it is a piece that pays homage to late King of Pop Michael Jackson, which was bought as a gift to her by 'The Kardashians' star Kim.
She said: "My Michael Jackson jacket that my mom got me for Christmas!"
However, thanks to her family's global fame, North has had her picture taken countless times over the course of her short life and she admitted that only likes to be photographed when it is on her terms, and is less keen when she is snapped by the paparazzi.
She said: "[I like it but] only when I want to, because ehhh, I don't want to sometimes. But not by the paparazzi."
In terms of her career, future North revealed that while she used to want to be a boxer, she would now like to go into art but also follow in the footsteps of her father by becoming a rapper and also hopes to inherit her parents' fashion companies Yeezy and SKIMS.
She said: "A basketball player, a rapper, um... Well, when I was seven, I wanted to be a boxer. But now I don't want to be a boxer. I'm going to do art on the side. When I'm, like, thirteen, I want to walk dogs, to make money to buy art supplies, because everything around here is so expensive.
"So a rapper, a basketball player, and I'm going to make artwork that I sell. Also, one day I want to own Yeezy and SKIMS, and I want to be a business owner."