Andrew Garfield likes 'playing with colour' on the red carpet
Andrew Garfield enjoys "playing with colour" on the red carpet and donned a navy custom tuxedo to the SAG Awards.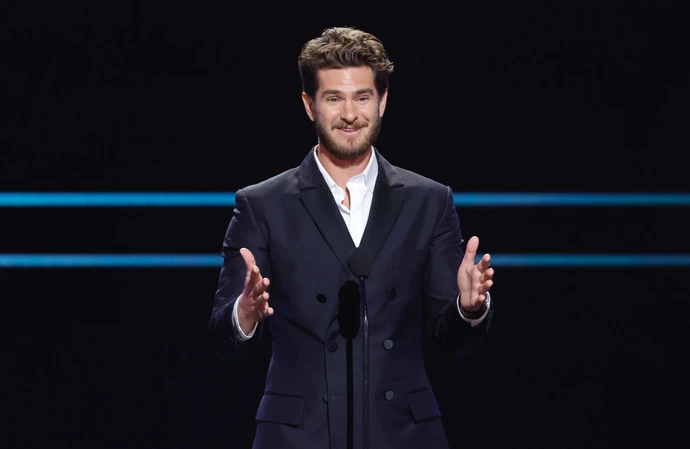 Andrew Garfield enjoys "playing with colour" on the red carpet.
The 'Under the Banner of Heaven' actor donned a custom navy mohair Valentino tuxedo to the Screen Actors Guild (SAG) Awards on Sunday (26.02.23) and his stylist, Warren Alfie Baker, loves the fact his client isn't afraid to break from the norm.
He said: "Andrew looks really amazing in clothes, so it's more about finding the perfect silhouette for him.
"We play a lot with colour, and he's always game to try new things. As a stylist and a creative, it's so great to work with someone who brings that attitude. So when we work together, I'll bring a lot of things that I know at this point he's going to love, but I'll still throw in a couple of wild cards, because I know he's open to different stuff."
Andrew was at the event to present Sally Field with a Lifetime Achievement Award and so didn't want his look to be "too crazy" and overshadow the "special moment" at Los Angeles' Fairmont Century Plaza Hotel.
Warren told The Hollywood Reporter: "That's going to be a really special moment, and Andrew is very aware of that.
"We didn't want to do anything too crazy, because we wanted to be respectful of the moment. Sally is an absolute icon, so our conversation started with that in mind...
"It's a look that feels clean, classic and appropriate to the occasion."
The suit took just two weeks for Valentino to put together for the 39-year-old actor.
Warren said: "Andrew wore a great look in purple to last year's Independent Spirit Awards, and he also attended the Valentino show in Rome [last July].
"We have a really good relationship with them, and when we work on a custom look, there's a lot of shorthand, because they have all his sizes. We only had about two and a half weeks from the time he was confirmed as a presenter, which is not the most time, so it really helps that Valentino's turnaround on a custom look is really quick."