The Rolling Stones teases 2024 world tour with signs displayed across the US
The Rolling Stones are reportedly set to embark on a global tour in April 2024.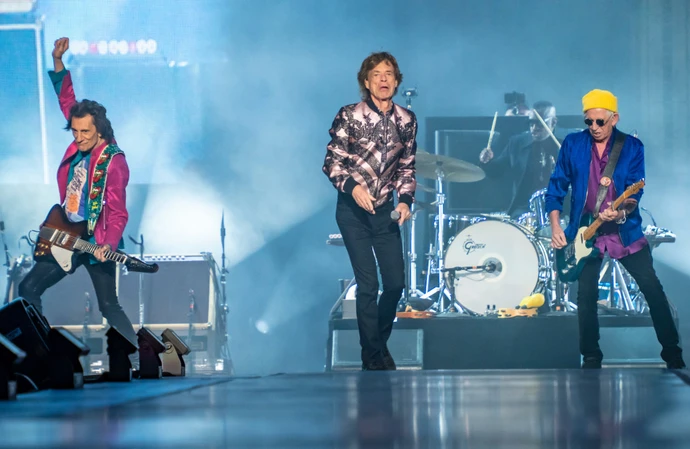 The Rolling Stones have teased a huge 2024 world tour.
Sir Mick Jagger, 80, Keith Richards, 79, and Ronnie Wood, 76, have displayed their famous tongue-and-lips logo at various locations over the weekend.
In Denver, a giant banner appeared at Empower Field at Mile High, the home of the NFL's Broncos.
The Stones' logo also appeared atop two Aston Martin vehicles racing in the Las Vegas Grand Prix on Saturday (18.11.23)
The luxury car maker teased "an exciting incoming announcement by the legendary rockers."
And now, a source has claimed the jaunt will kick off in the US in April.
It follows their 2022 shows with new drummer Steve Jordan - who replaced the late Charlie Watts following his death aged 80 in August 2021 - and the release of their chart-topping first album of original material in 18 years, 'Hackney Diamonds', released in October.
The insider told The Sun newspaper's Bizarre column: "The tour will be huge.
"Despite their advancing years, the Stones have zero plans to slow down.
"An official announcement is set to be made in the coming days with the first batch of dates.
"Their latest record Hackney Diamonds proved they are bigger than ever and the tour is tipped to be an almost immediate sell-out."
Whilst the 'Start Me Up' group show no signs of slowing down, guitarist Keith recently admitted it's likely they will live on with a hologram show.
The legendary musician said they are "bound to" have their own avatar show - whether he likes it or not.
Keith is undecided on whether he would still want to be alive if they have their own ABBA Voyage-style show with digital avatars replacing the band members.
Speaking to Matt Wilkinson on Apple Music 1, he said: "Well, I certainly wouldn't rule it out. I'm pretty sure that it is bound to happen. Do I want it? Now, that's another thing. But I don't know if I want to hang around that long enough, man. But at the same time, it won't be up to me, will it?"
Keith's comments came after Mick spoke about the possibility of the 'Angry' hitmakers living on with a "posthumous tour" with the band recreated on stage.
Although he didn't state whether his band would have a hologram show, it's not the first time he's mentioned it.
He told The Wall Street Journal: "You can have a posthumous business now, can't you? You can have a posthumous tour. The technology has really moved on since the ABBA thing, which I was supposed to go to, but I missed it."