Gene Simmons thanks fans for well-wishes after he fell weak with dehydration onstage in Brazil
Gene Simmons insists he's fit and well after the intense humidity got to him in Brazil.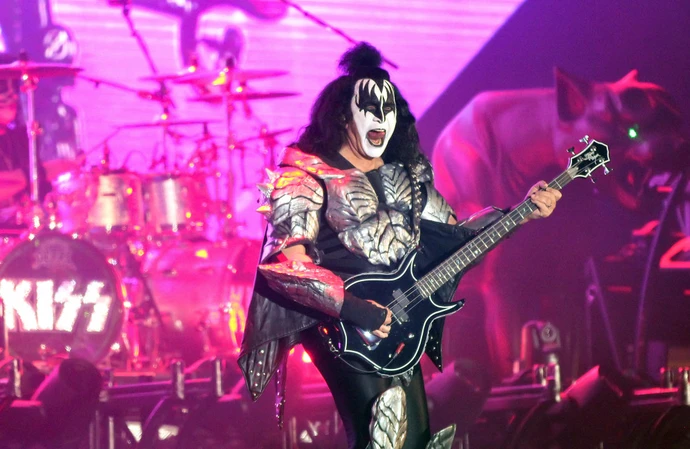 KISS briefly paused their concert in Brazil this week as Gene Simmons felt weak due to dehydration.
The 73-year-old bassist-and-vocalist had to be attended to during their set in Manaus, Brazil, on Wednesday night (12.04.23).
He left the stage for around five minutes, according to ACritica, before continuing with the performance.
His bandmate Paul Stanley had noticed Gene sitting down looking unwell and told the crowd: "We're gonna have to stop.
"You know how much we love Gene, and he's obviously sick. And we're gonna have to stop to take care of him, 'cause we love him, right?"
Gene tried to carry on performing 'Say Yeah' seated before he got back up on his feet.
The 'Rock and Roll All Nite' star later reassured fans that he was doing OK and simply needed to drink water.
He tweeted: "Hey everybody, thanks for the good wishes.
"I'm fine. Yesterday at Manaus Stadium in Brazil, [I] experienced weakness because of dehydration. We stopped for about five minutes, I drank some water, and then all was well. Nothing serious."
The band - who are on their 'End Of The Road' farewell tour - will return to the stage on Saturday night (15.04.23) for Colombia's Monsters Of Rock Festival at the Bogota Stadium.
Meanwhile, A KISS biopic is heading to Netflix in 2024.
The band's manager, Doc McGhee, has revealed the film, which was first talked about in 2021, will follow the first four years of the glam metal legends' career.
The 'Detroit Rock City' rockers formed in New York City in 1973, with a line-up comprising Paul (vocals, rhythm guitar), Gene (vocals, bass), Ace Frehley (lead guitar, vocals), and Peter Criss (drums, vocals).
Speaking on 'The Rock Experience with Mike Brunn', Doc said: "It's a biopic about the first four years of KISS. We're just starting it now. We've already sold it, it's already done, we have a director, McGhee [Entertainment]. That's moving along and that'll come in [2024]."
KISS - which now comprises Gene, Paul, Eric Singer, and Tommy Thayer - will bow out of touring with two nights at New York's Madison Square Garden on December 1 and 2, bringing them full-circle.