Metallica recorded album in socially-distanced studio sessions
Metallica star Lars Ulrich has opened up about making the band's latest album during the COVID-19 pandemic - insisting the socially-distanced studio sessions gave him a 'new sense of appreciation'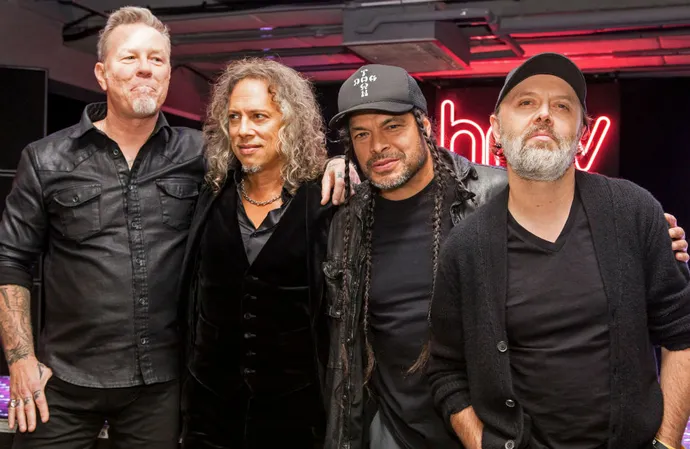 Metallica's new album was recorded in socially-distanced studio sessions during the COVID-19 pandemic.
The metal band are releasing their new record '72 Seasons' this week and drummer Lars Ulrich has opened up about the battle to get the project off the ground in late 2020 after months of lockdowns and restrictions due to the coronavirus outbreak - insisting the sessions gave him a "new sense of appreciation for what we have".
Lars told NME.com: "At our studio we have cameras set up everywhere, and so when occasionally you see a clip it's like: 'Wow, oh yeah, we all had masks on!' For the first six months of making this record, we had masks on and we were all social distancing in each corner of the studio.
"In the wake of all that, I think we now have a new sense of appreciation for what we have. After the last couple of years I'm feeling pretty grateful about the fact we actually got a record out of it and got through it, and I'm looking forward to getting back out there and playing shows."
Metallica are preparing to head out on their 'M72 World Tour' during which they will play two shows in every city featuring two totally different sets - and Lars admits it sounded like a good idea when they came up with it but now fears it's a bit daunting.
He added to NME: "It seemed like a really good idea in 27 email chains but now we're four weeks away from from it, it's like: 'Whose idea was this?'
"It's going around the world for two years and in most cities we're playing on a Friday and a Sunday. Two completely different sets, no repeat songs. Two different sets of support acts. It's basically like going to a festival."
The tour kicks off in Amsterdam on April 27 and 29 and will stop in European cities including Paris, Munich and Madrid as well as American dates in Los Angeles, Chicago and Seattle.