MUNA have 'mutual respect' with label boss Phoebe Bridgers
MUNA have opened up about being dropped from a major label and how working with indie label boss Phoebe Bridgers is a dream.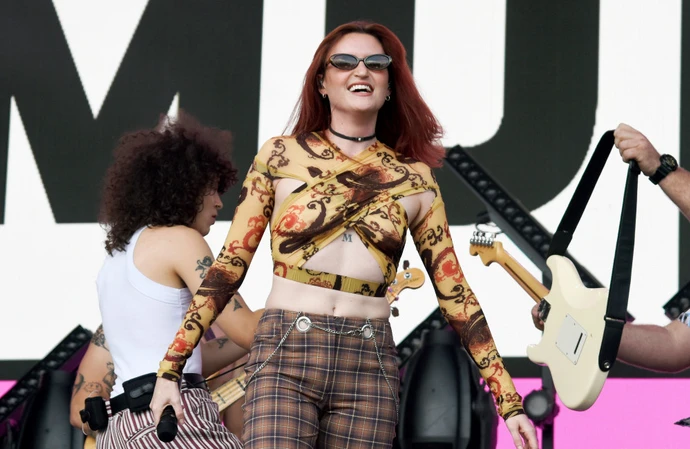 MUNA say being signed to Phoebe Bridgers' label was a no-brainer because they have "mutual respect" for each other.
The LA trio - comprising Katie Gavin, Josette Maskin and Naomi McPherson - were dropped by major label RCA Records in 2021, and they insist they work much better on the megastar's indie label Saddest Factory because she is a real fan of their music and they can be themselves.
Speaking to Musicfeeds.com.au, Katie said: "There are a couple of things. The basis is just mutual respect. We have so much respect for Phoebe, not just as an artist, not just as a label runner, but as a human being. Our whole team is full of people that we just genuinely love – and not only like working with, but like hanging out with, and that's so rare. Phoebe came into our lives initially just as a fan of our music and we were also fans of hers.
"Once we got dropped by RCA… [going to an indie label] was something we had been thinking about for a while, because of the way that we actually function as a band. We sound very major label because Naomi's such a pristine producer, and so it can sound like we have a fat recording budget, but we do a lot with just the three of us and a big chunk of time in our little basement studio."
The group - who have shared a stage with Harry Styles and Kacey Musgraves - had teamed up with Phoebe on the 2021 hit 'Silk Chiffon' and released their first album on the label, 'MUNA', last year.
Meanwhile, Naomi - who dated bandmate Katie - previously admitted they hate being described as a "queer pop band".
She said: "Jo and I initially didn't want to be labelled as a queer pop band.
"Even though yes, ultimately, we're very gay. I mean, look at us."
Katie interjected: "I remember you both being concerned about people not paying attention to the music."
Naomi continued: "Yeah, I wanted us to be taken seriously. Even now sometimes the headline about us is just like 'Queer pop band'... we get hit up in June for Pride a lot."