Alice Cooper's long-serving guitarist Nita Strauss is back in the band
Alice Cooper's upcoming North American tour will see him reunited with guitarist Nita Strauss.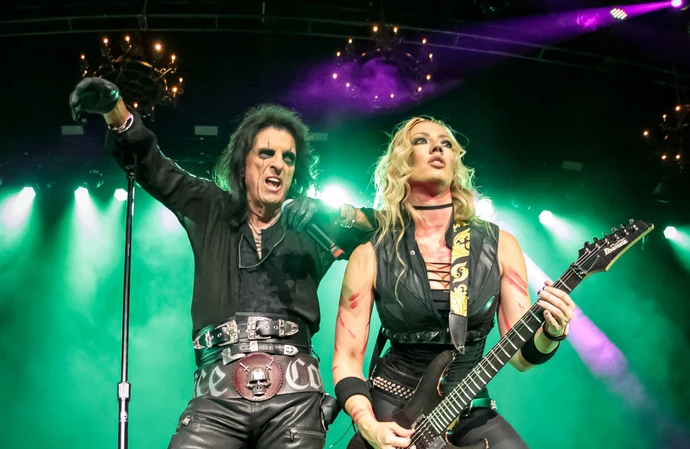 Alice Cooper's long-serving guitarist Nita Strauss has re-joined his touring band.
The 36-year-old axe-slayer was part of the group - which also includes Ryan Roxie, Tommy Henricksen, Chuck Garric, and Glen Sobel - from 2014 until 2022, but took time out to be part of pop star Demi Lovato's touring line-up.
Alice and Nita will reunite on the 'School's Out' rocker's upcoming 'Too Close For Comfort' North American tour, which kicks off on April 28 in Michigan.
Alice and co will also hit the road with Rob Zombie on the 'Freaks On Parade' tour.
The 75-year-old rocker said of Nita's returns: "She's Back! Nita asked for a leave of absence to work with someone else, something I always encourage my band members to do. I like them to challenge themselves and try new things. I'm thankful to my old friend Kane Roberts for stepping up and filling in for her, but she'll be back with us for the new tour that starts up in late April. It's going to be great to have her back."
Nita added: "From the studio to the stage, it's always an immense honour to make music with Alice Cooper!! I'm very excited to be re-joining the band on the road for the 2023 dates, and so I'll see you on the road in April. Let the nightmare return!"
Meanwhile, Alice's Hollywood Vampires are to tour the UK this summer.
The rock supergroup - which also comprises Hollywood actor Johnny Depp and Aerosmith rocker Joe Perry - are to play shows across the UK and Europe in 2023 after being forced to cancel dates in 2020 due to the COVID-19 pandemic.
The trio - accompanied by guitarist Tommy Henriksen - play songs in tribute to the "great lost heroes of music" and perform original material from their two album releases.
Discussing the upcoming shows, Alice said: "Well, it's already been three years since the Vampires have toured because of Covid.
"Also, Johnny has his movies, Joe's in Aerosmith and I'm in Alice Cooper, so we have to look at that whole thing and see when we can all get a month or two off where we can go out and tour. And, we are going to be doing that, next summer coming up, 2023.
"I can't wait to get back with the guys, I really love being in that band. My band is great and wonderful, but playing with the Vampires is an entirely different situation."
The 'Feed My Frankenstein' rocker continued: "I don't necessarily do any theatrics at all, I'm just the lead singer, in a band, and the band just happens to be one of the best bands around! It'll be great to see Johnny and Joe and Buck and Chris and all the guys.
"We'll be rocking these places, especially the UK, I can't wait to get to the UK! Lock your doors, put garlic all around, because the Vampires are coming."