Elvis Costello describes the late Burt Bacharach as an 'extremist'
Elvis Costello has revealed the "extremist" side to Burt Bacharach in the studio.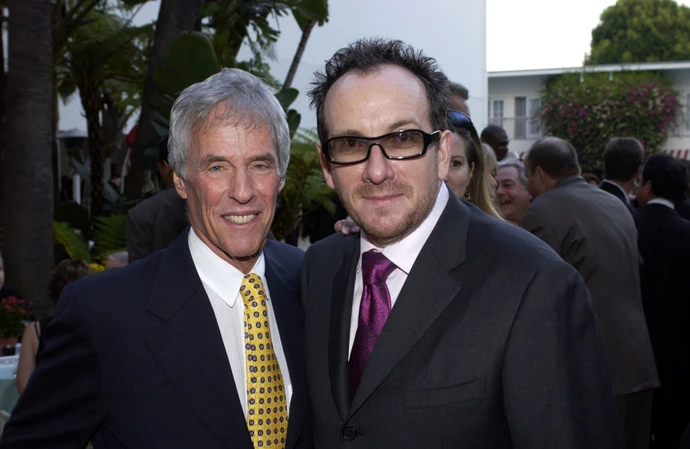 Elvis Costello has described the late Burt Bacharach as "extreme in love and invention".
The songwriting pals first met in 1989 while working at the same recording studio and worked together for almost three decades.
And while recalling working on their 1998 LP 'Painted From Memory', Costello said he found Bacharach to be an "extremist" when it came to music and love.
Speaking to Uncut magazine, Costello said: "Making 'Painted From Memory', Burt told me, 'I don't demand 110 per cent anymore, I settle for 98.' Listen to the music in the bridge of 'Alfie', for which Hal David wrote: 'Until you find the love you've missed, you're nothing.' Burt is an extremist for sure. Extreme in love and invention."
On the same subject, Costello recently recalled Bacharach putting him in his place in the studio.
The 68-year-old Grammy winner said the legendary composer was a "very considerate" person, but when it came to music, he had the kind of rigorous approach that "makes you fall in line".
In an interview with The Times newspaper, Costello said Bacharach - who died from natural causes aged 94 on February 8 - was: "Very considerate, but he won't let anything get in the way of the music, and all the geniality and elegance on the surface of the songs hides the power at the heart of them."
He continued: "Once he gets the shape of a melody he won't negotiate. 'Could I get a triplet, so I can use it against this three-syllable word?' — 'No, you can't.' After a while, the sheer rigour of his approach makes you fall into line."
Costello admits these kinds of "chance encounters" are rare today because a lot of artists work remotely.
He said: "These are the chance encounters that don't happen today because now everyone makes albums on their laptops.
"I had been using a marimba with the same suspension as [that in the Bacharach classic] '24 Hours from Tulsa', as a gesture of acknowledgment really. He was down the hallway so I asked him to listen."
Asked what the 'What the World Needs Now Is Love' hitmaker thought, Costello replied: "He was gentlemanly about it."
Upon the sad news of Bacharach's death, which happened before the release of the boxset 'The Songs of Bacharach and Costello' on March 3, Costello admitted he's devastated that the pair won't get to collaborate again.
He said: "I am very sad today. But Burt Bacharach means the same to me this morning as he did at midnight on Wednesday, when the call came. I have to accept that there will not be the next song that he — or even we — might still be about to write. I will always struggle to think of him in the past tense."