The Lottery Winners team up with Shaun Ryder for 'bananas' new single
The Lottery Winners have released a new single with Shaun Ryder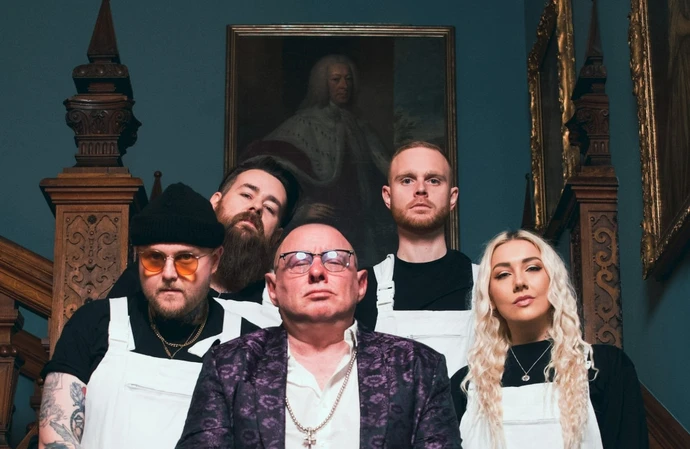 The Lottery Winners have released a new single with Shaun Ryder
The Manchester-based indie pop band - which consists of Katie Lloyd, Thomas Rylance, Joe Singleton, Robert Lally, Alexandria Langford-Taylor - were amazed that they got the chance to work with fellow Mancunian and Happy Mondays star Shaun, 60, for their new song 'Money', with the video featuring the 'Step On' hitmaker as the lord of the manor role who employs the band as removal specialists.
Thom said: "Firstly, Shaun Ryder is on our single. How mental is that? Being in the studio with him was a very strange and wonderful experience. He gave me a conker that he had in his pocket for some reason. I love him. He's a true Manchester music legend and truly is a genius.
Filming the video was bananas as well. We filmed it where they shot 'Peaky Blinders'. At one point I had to drive a Luton van past a Happy Monday into Tommy Shelby's driveway. I've got a weird life. The song is a banger. It's about being skint, and I'm sure a lot of people can relate to that at the moment, while it costs both an arm and a leg just to heat your house."
Meanwhile, guitarist Rob Lally added that Shaun was "cheeky" and "brilliant" to utter a throwback line to his days with the Happy Mondays on the new track, which is taken from their upcoming album 'Anxiety Replacement Therapy.'
He said: "Thom said 'We need Shaun to say something like 'Call the cops.' Five minutes later, Shaun said: 'They've stole my money, call the cops.' We all went: 'Yeeees! He's said the thing! We're putting that in.' Shaun said that line so cheekily, it was brilliant."
Stream 'Money' at https://thelotterywinners.lnk.to/Money.
Watch the video at https://www.youtube.com/watch?v=e70gES3jsJ4.
'Anxiety Replacement Therapy' also features Boy George and is due for release on 28 April, while tickets for The Lottery Winners' April tour are on sale now.
Pre-order the album and buy tour tickets at https://www.thelotterywinners.co.uk/.