Ayda Field felt 'super-protective' of Robbie Williams after watching documentary
Ayda Field wanted to "save" Robbie Williams after she saw footage of him vulnerable and struggling with addiction in his new documentary series.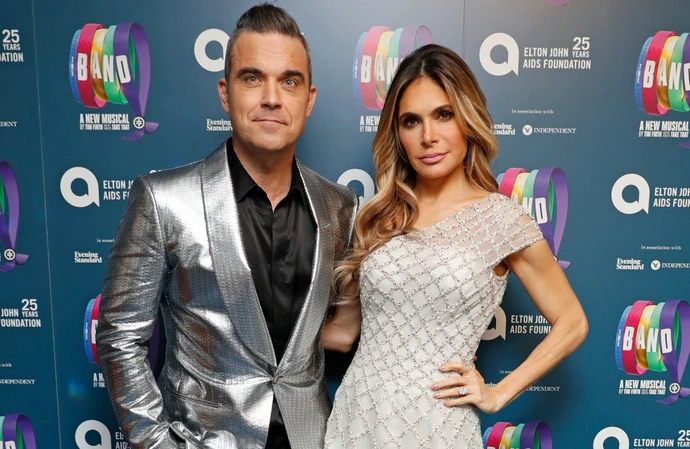 Ayda Field felt "super-protective" of Robbie Williams when she watched his documentary.
The 44-year-old actress - who has children Teddy, 11, Charlie, nine, Coco, five, and three-year-old Beau with her singer spouse - found it "very difficult" to look back on footage of the former Take That star when he was gripped with drug and alcohol addiction that appears in his new self-titled Netflix series because it made her desperate to "save" him.
She told Sunday Times Style magazine: "I was really watching it as a parent. I felt super-protective of young Robbie Williams and what he was going through.
"It was very difficult to see him drunk in the scenes where he was drinking and slurring. That was painful. I went into this parent mode of, 'Oh my God, I want to save him now. That poor boy is struggling.'"
The documentary also includes footage of the 'Angels' hitmaker proposing to Nicole Appleton in 1998 and play-wrestling with Spice Girls star Geri Horner when they were dating, and Ayda admitted she was "surprised" by how uncomfortable she felt seeing him so intimate with other women.
She said: "It took me by surprise how uncomfortable it made me to see him with other women.
"As a story I don't mind it, but watching it in real-time footage, I'd normally take a pass on that."
But the documentary also reminded Ayda of how much she still fancies Robbie after 16 years together.
She laughed: "All I can say to him this morning is, 'Boo, you're so handsome, you're so fit.'
"It instantly brought me back to being that 27-year-old girl who had heart emojis in her eyes."
Watching back hours and hours of footage of his most difficult times was very difficult for the 'Let Me Entertain You' singer.
Ayda said: "Times when he was on drugs, times when he was being made fun of, having the world against him. He'd come out of the room every night just looking shell-shocked. He was very, very fragile."
The former 'Days of Our Lives' actress was there for her husband to offer support and "just remind him of where he's at in his life, not getting lost in that dialogue of the past".