Jeff Bezos' fiancee Lauren Sanchez 'blacked out a bit' when Jeff Bezos proposed with dazzling diamond ring
Lauren Sanchez has recalled the dramatic moment Jeff Bezos proposed.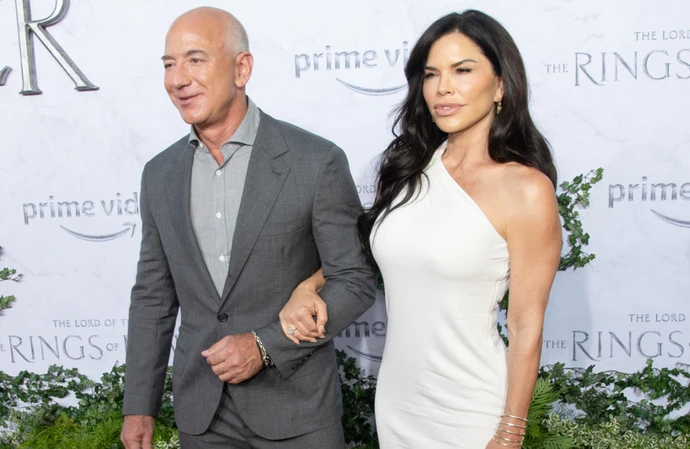 Jeff Bezos' fiancée Lauren Sanchez nearly "blacked out" when he proposed with a $2.5 million engagement ring.
The billionaire Amazon owner, 59, hid the box containing the giant sparkler under the former news anchor's pillow before presenting it to her - and she nearly passed out.
In a cover interview for Vogue magazine's December issue, she said: "When he opened the box, I think I blacked out a bit."
Jeff and Lauren, 53, have only been engaged since May, and are not entirely sure what kind of wedding they would like.
She continued: "We're still thinking about the wedding, what it's going to be. Is it going to be big? Is it going to be overseas? We don't know yet. We've only been engaged five months."
However, her dress will likely be made by Christian Dior, Dolce and Gabbana, or Valentino.
The bride-to-be said: "There's so many incredible designers.
"Once I get a minute, I'll slow down."
The pair have celebrated their engagement with their showbiz pals, including on Jeff's $500 million superyacht.
They were joined by Microsoft founder Bill Gates and his partner Paula Hurd, Wendi Murdoch - the ex-wife of media mogul Rupert Murdoch - and socialite Fabiola Beracasa Beckman for an "intimate" affair aboard the Bezos' beloved Kora in the breathtaking Positano, Italy, in August.
The week prior, Jeff and Lauren sailed around Capri in the luxury vessel - which features a sculpture on the bow that looks like his partner.
Jeff proposed to the former broadcaster aboard Kora off the coast of Cannes.
The loved-up pair were sailing around the Mediterranean on the superyacht and Lauren was seen with the dazzling diamond ring on her wedding ring finger as they docked in Cannes and packed on the PDA.
Jeff and Lauren have been dating since 2019, but first met in 2016, while she was still married to Patrick Whitesell, who introduced the pair, and the business magnate was with the mother of his four children, MacKenzie Scott Tuttle.
Lauren previously gave an insight into their romance and gushed that he has a "goofy" sense of humour.
The former reporter admitted it is always easy to find her partner if they get separated at parties because of his distinctive laugh and she's always found him "really funny".
She told the Wall Street Journal: "He's really funny. He makes me laugh all the time. He can be goofy.
"When I first heard his laugh, I was like, 'Whoa! What is that?' Now I love it. And if I'm at a party and we get separated, all I have to do is wait a second and he laughs and it's like, he's over there."