Celine Dion 'sang a few notes' during first public appearance in years
'My Heart Will Go On' hitmaker Celine Dion "sang a few notes" during her first public appearance in three and a half years.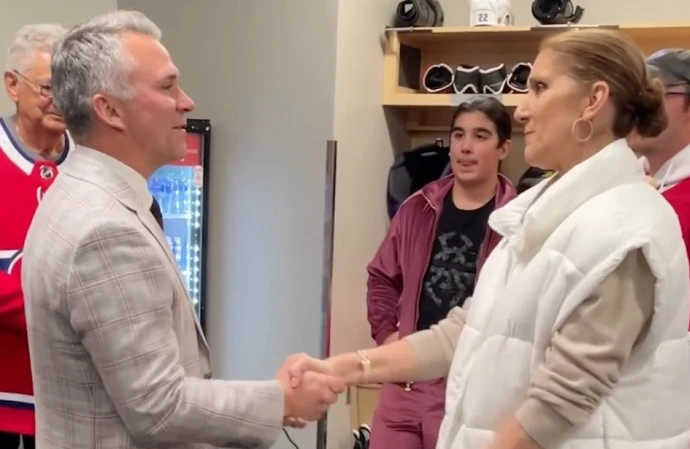 Celine Dion "sang a few notes" during her first public appearance in three and a half years.
The 55-year-old star revealed in December 2022 she had been diagnosed with stiff person syndrome - a rare neurological disease which causes severe spasms - which forced her to cancel her 'Courage World Tour' two years earlier.
Last week she was seen at an NHL game in T-Mobile Arena in Las Vegas, to watch Sin City's Vegas Golden Knights go head-to-head with her hometown team the Montreal Canadiens.
Now, the team's VP of hockey communications Chantal Machabée has told People that she even "sang a few notes" when she met with players.
She added: "It was an incredible moment. She's an amazing woman."
Chantal found it "reassuring" seeing the 'My Heart Will Go On' icon in such good spirits after a difficult period.
She said: "She's been through a lot, and to see her like this and smiling and being so happy... it's amazing.
"I know she has good days and not so good days, but this was a very good day, and it was reassuring."
In a rare social media post, she shared a set of photos of her posing with her three sons at the match, which she captioned: "My boys and I had such a fun time visiting with the Montreal Canadiens after their hockey game with Vegas Golden Knights in Las Vegas Monday night.
"They played so well, what a game!! Thank you for meeting us after the game, guys! That was memorable for all of us. Have a great season! – Céline xx… ."
In several of the images, the singer is seen with her boys René-Charles, 22, and twins Nelson and Eddy, 13, who she had with her late husband, René Angélil.
Her stiff person syndrome is a rare, progressive neurological disorder that can cause stiff muscles in the torso, arms and legs and affects about one in a million people.
Céline's hockey game outing comes two months after the performer's sister said the star was suffering uncontrollable "spasms" she continues to battle her incurable stiff person syndrome.