Prince William 'terrified' in dragon boat race but was praised as 'a natural'
Prince William was deemed "a natural" after he helped secure the victory for the British Dragon Racing Team in Singapore.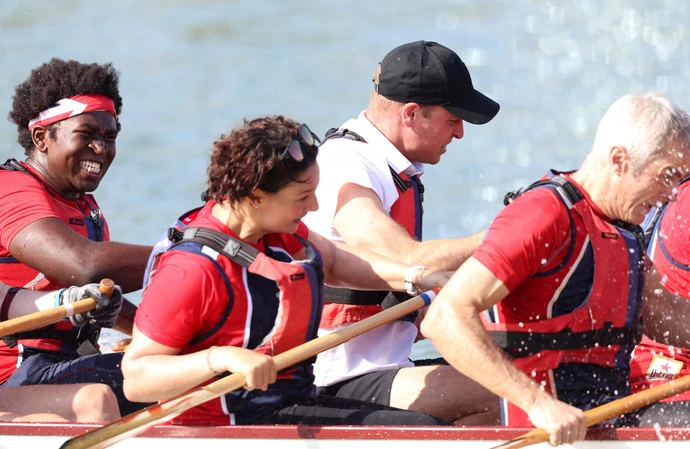 Prince William was "terrified" during a dragon boat race but "didn't miss a stroke."
The Prince of Wales took part in a training session with the British Dragons Dragon Boat Racing Team on the Marina Reservoir during a visit to Singapore on Monday (06.11.23), and worked with 21 other rowers to beat the opposing team to the finish line.
However, during his team's celebratory breakfast, the 41-year-old royal - who is in Singapore ahead of the presentation of the Earthshot Prize - admitted he was nervous he'd be to blame if things had gone wrong.
He said: "I was terrified if I got it wrong, I'd clash with the whole side and everyone would start going out of sync.
"All I care about is don't get it wrong.
"We won… so I'll take that. The High Commissioner planned it very well."
He was also gracious and humble in victory, and said that he loved sports, and, refering to the captain, modestly insisted he was simply following "the key man in front of me."
William then praised the drummer at the bow of the boat, and emphasised how important they were in securing their victory.
He said: "The drum was very good, a very good rhythm."
His teammates were very complimentary of the royal, with captain Chris Bosher saying he was "super engaged from the moment he walked down the pontoon to the moment he finished."
Chris continued: "He was excellent, he said 'seriously guys I want us to win this'.
"After he was asking about the race calendar and we mentioned we'd got a race coming up in two weeks and really he should come back and we'll give him a seat on the boat.
"He said it's quite a refreshing break from the normal routine so this was right up his street."
Dragon boat racing is a traditional sport that can trace its origins back to nearly two millennia ago, and has become hugely popular in Singapore, with other nations, including the UK, having rowing teams in the region.