Joss Stone 'didn't want the stress' of a big wedding: 'My dad gave me away on Zoom!'
Joss Stone "didn't want the stress" of a big wedding so kept the whole thing a secret and asked her dad to "give her away" on Zoom.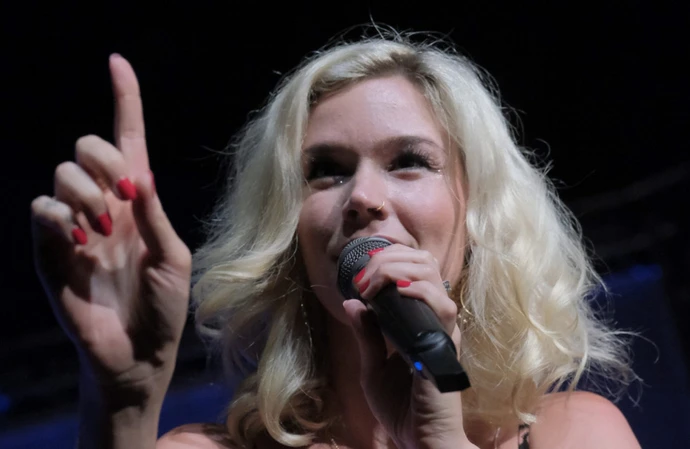 Joss Stone "didn't want the stress" of a big wedding.
The 36-year-old singer revealed last week that she and partner Cody DaLuz - with whom she has daughter Violet, two, and 11-month-old son Shackleton - secretly tied the knot in Nashville, Tennessee, and has now admitted that she felt that it would just be "more personal" that way, even though her dad had to give her away via video call on Zoom.
She told The Sun on Sunday's Bizarre column: "I didn't want the stress of a big wedding. I just thought it would be more fun and more personal to just do it on our own.
"I called my dad, who lives in Dubai, on Monday, and told him I was getting married that week and did he want to connect via Zoom and give me away?
"He got all dressed up and was on a phone stand during the ceremony to give me away. He was there with his champagne to make a toast.
"We weren't telling anyone so it was just supposed to be him."
The 'Right to be Wrong' songstress went on to add that she and her new husband ended up having a party with several strangers inDubai and that her dad kept her secret until she felt ready to announce it.
"But we got married and then I saw he had invited loads of people around and he was having a party to celebrate in Dubai with loads of people I've never met.
"It was really funny.
"He said our secret was safe though."
Joss has been working with Dave Stewart on the score for the stage show 'The Time Travellers Wife' and she revealed she almost caught a bouquet of bridal flowers while in the audience for the production, so took it as a sign about her own nuptials.
Speaking to 5 News' Tessa Chapman, she said: "OK, I'll tell you something magical, really truly. You know when she throws the flowers at the end?
"They came to me and I almost reached out for them to catch the flowers - this is when she gets married and they do the whole thing and that's the end of the first act - and they sort of fell down here and there was an empty seat - the only empty seat in the whole place.
"And no one went to pick them up and I was like, well they were for me! So I picked them up and everyone was like, yay!!!
"Anyway, I went home to Nashville and we got married last Thursday.
"And I thought it was a good omen!"