Céline Dion FINALLY breaks silence with rare update for fans amid her agonising battle with stiff person syndrome
After revealing her diagnosis in 2022 – two years after the condition forced her to pull the plug on a world tour – Céline Dion has now broken her silence amid her painful fight against stiff person syndrome.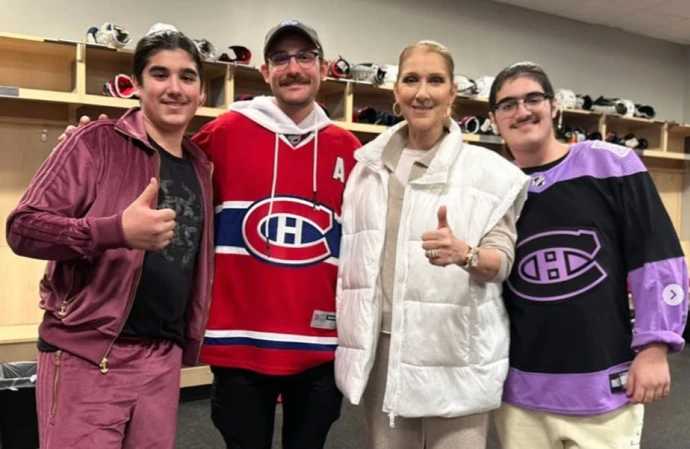 Céline Dion has broken her silence amid her ongoing battle with stiff person syndrome.
The 'My Heart Will Go On' singer, 55, revealed in December 2022 she had been diagnosed with the rare condition, which had forced her to pull the plug on her 'Courage World Tour' two years earlier, and on Monday (30.10.23) she was spotted at an NHL game in T-Mobile Arena in Las Vegas, to watch Sin City's Vegas Golden Knights go head-to-head with her hometown team the Montreal Canadiens.
In a rare social media post, she shared a set of photos of her posing with her three sons at the match, which she captioned: "My boys and I had such a fun time visiting with the Montreal Canadiens after their hockey game with Vegas Golden Knights in Las Vegas Monday night.
"They played so well, what a game!! Thank you for meeting us after the game, guys! That was memorable for all of us. Have a great season! – Céline xx… ."
In several of the images, the singer is seen with her boys René-Charles, 22, and twins Nelson and Eddy, 13, who she had with her late husband, René Angélil.
Her update overjoyed fans, who filled her comments section with well-wishes and called her a "Queen".
Céline was left devastated when her music producer husband René Angélil died in 2016 aged 73 after they were married for 22 years.
Her stiff person syndrome is a rare, progressive neurological disorder that can cause stiff muscles in the torso, arms and legs and affects about one in a million people.
Céline's hockey game outing comes two months after the performer's sister said the star was suffering uncontrollable "spasms" she continues to battle her incurable stiff person syndrome.
Claudette Dion, 74, told in September how all the singer's family can do now to help her "strong" sister or "alleviate her pain".
She told Hello! Canada: "She's doing everything to recover. She's a strong woman.
"It's an illness we know so little about. There are spasms – they're impossible to control.
"You know who people often jump up in the night because of a cramp in the leg or the calf? It's a bit like that, but in all muscles.
"There's little we can do to support her, to alleviate her pain."