Jay-Z and Beyonce almost chose a very different name for Blue Ivy
Jay-Z has revealed the name that he and Beyonce almost chose for daughter Blue Ivy and explained why she ended up with such a colourful name.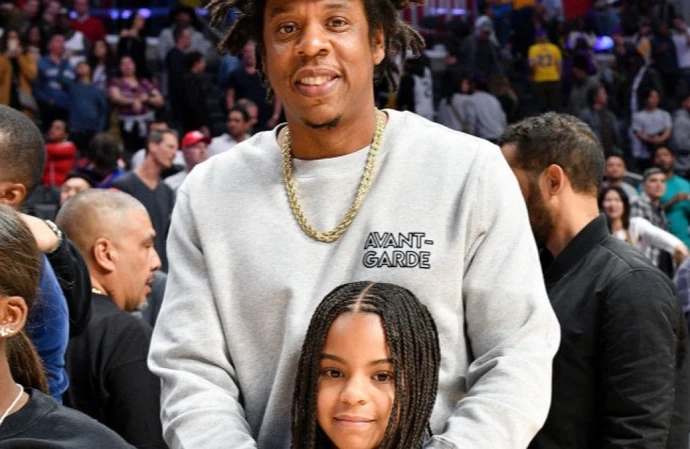 Jay-Z and Beyonce almost named their eldest daughter Brooklyn.
The 53-year-old rapper has Blue Ivy, 11, and five-year-old twins Rumi and Sir with the 42-year-old music megastar - who he married in 2008 - and revealed that whilst their eldest was initially supposed to be named after his hometown in New York, they ended up choosing the colourful moniker because of a nickname that came about during the 'Formation' singer's pregnancy.
Speaking on 'CBS Mornings', he told Gayle King: "It was supposed to be Brooklyn. We was calling her Blueberry. Like, 'Look at the little blueberry.' You know, it was like a nickname. It was just natural. We just took the berry off and called her Blue."
Elsewhere in the interview, the 'Empire State of Mind' hitmaker explained that his daughter used to struggle to think of her mother and father as being "cool", but in recent years she has come round to the idea of having superstar parents.
He said: "She used to be frontin' on me a little bit. But [now] I catch her. I catch her in the corner, you know? Now she asks me, you know, if this is cool, if her sneakers [are cool]. There was a time where she was like, 'Daaaaad,'and I would say 'I'm cool. I don't know what you saying, I'm cool! You got cool parents! At your house, your parents [are] cool."
Jay releases music through his Roc Nation independent label and explained that his masters will revert back to him but admitted that it is the choice of his children if they decide to sell the company when he is gone.
He said: "I needed to sell [my debut] album. And had I gone to a label, I don't think I would've been able to fully explore what was really happening, because I had the freedom and the independence to really talk about the real stuff that was happening in the streets, and happening for me and my friends at the time.
" From being an independent company from the beginning. And then going through the Def Jam system, not really understanding how that works. And them having my masters... then goin' back to Def Jam as the president. And then saying, 'OK, I'll do this job. And part of this job is I have to - my masters have to revert back to me. You know, if they decide to sell it, then it's up to them."