Joan Collins broke royal protocol with this royal
Dame Joan Collins has recalled the one time she forgot to curtsy a royal.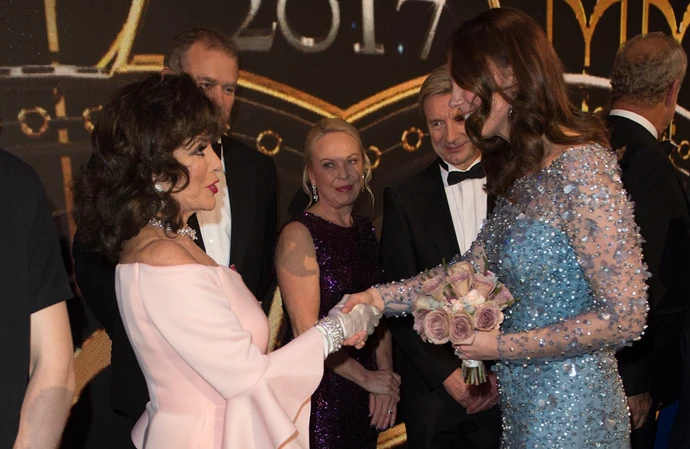 Dame Joan Collins has recalled being so nervous she forgot to curtsy to Catherine, Princess of Wales.
The 'Dynasty' star - who was made a Dame by Queen Elizabeth II for her charitable services in 2015 - was a guest at the late monarch's Platinum Jubilee Pageant in June 2022, and she was so in awe of the beautiful princess in her striking red dress, the moment she spoke to the 41-year-old royal, she "gulped" and forgot the royal protocol.
In her new tome, 'Behind The Shoulder Pads', Joan shared: "Finally, we arrived outside the Royal Box, which was packed with royals and relatives of the Queen. As we descended from the Jaguar, trying to look presentable after two hours in the freezing wind, Princess Beatrice and her husband Edoardo waved at us excitedly. Then he nudged Princess Anne, who nudged Prince Charles and Camilla, and they all waved, smiled at us, and mouthed, 'Well done!' Very gratifying indeed.
"Shown to the green retiring room behind the box, I collapsed onto a sofa and was offered a cup of tea. Suddenly, a vision appeared in a red dress. Catherine, the [then] Duchess of Cambridge, with her two young children in tow.
"'Hello, Joan,' she said sweetly, holding out her hand.
"'Hello, ma'am,' I gulped, forgetting to curtsy.
"'This is Charlotte, and this is Louis,' she said, and both little people held out their tiny hands politely for a handshake."
The Hollywood legend, 90, has met Catherine - who has Princes George, 10, and Louis, five, and eight-year-old Princess Charlotte, with husband Prince William, 41 - a handful of times.