Hugh Hefner's Playboy Mansion recreated for world's raunchiest influencers: 'We have the Rebel Devils instead of the Playboy Bunnies!'
A new influencer management agency has recreated Hugh Hefner's iconic Playboy Mansion in the English countryside so the UK's raunchiest content creators can party and create footage set to be worth millions.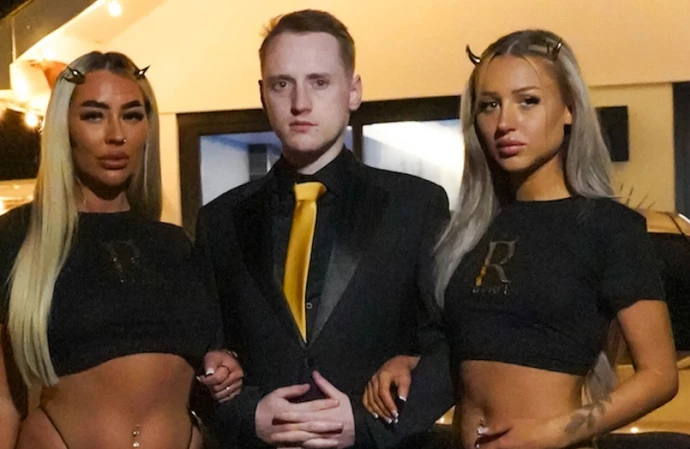 Hugh Hefner's iconic Playboy Mansion has been recreated – for the web's raunchiest influencers.
Digital entrepreneur Jordan Smith opened the 'Rebel House' in the English countryside on Tuesday (24.10.23), which is now packed with invite-only content creators including OnlyFans' biggest earners.
Manchester-based Jordan, 29, launched the Playboy Mansion-style home as part of his Rebel Agency influencers management firm, which has scores of the world's top influencers on its books.
They get access to the 'Rebel House' to party with fellow influencers and create content separately and together that Jordan says is set to earn them millions of pounds.
Jordan said: "Instead of the Playboy Mansion, we have the Rebel House. And instead of the Playboy Bunnies, we have our Rebel Devils.
"I launched the Rebel Agency last summer, and we now handle some of Britain's highest-earning influencers.
"We thought it was a great idea to recreate the Playboy Mansion for our clients. Our Rebel House is the perfect way to supercharge their earnings.
"Our Rebel Devils got the invite to the secret location of the mansion a few days ago, and the place is now packed with our highest-earning male and female clients.
"They get to party together, and we have set up top-level camera and sound equipment so they can record weeks' worth of content for their platforms.
"We estimate their videos should last them weeks and are going to earn them millions."
The Rebel House is a UK-first, and Jordan and his team have plans to roll out the concept globally, starting with London and Los Angeles.
He said he set up his agency to protect influencers and OnlyFans contributors from "the perils of being sucked into 24/7 content creation" that he warns can "destroy their physical and mental health".
Openly-gay Jordan, whose background is in marketing, business and event management, added: "We have scores of really diverse content creators on our books and we've helped some of them become part of the top 1 per cent of OnlyFans' earners.
"Our influencers agency focuses on creating a safe space and caring community for all kinds of creators.
"The Rebel House may sound like it was inspired by the Playboy Mansion, but I'm no Hugh Hefner and this isn't about me joining the party like he did.
"It's actually a really professional place that's a space for top-earning creators to concentrate on producing content for their followers.
"The location of the Rebel House is being kept secret for now to protect the safety of our creators, and at the moment it is a VIP, invite-only set up for our clients.
"But in the future, we have plans to invite fans to the House so they can meet and party with their favourite influencers."
Among Rebel's clients is top OnlyFans earner Belle Olivia.
The 21-year-old last year made global headlines when she told how she makes enough cash to pay rent on her penthouse in Manchester with just 10 minutes' of content.
She said: "Rebel have been running content days for creators for months, and they've always been amazing.
"Creators get access to so much equipment and record weeks' worth of content in a few days.
"And there's always the fun of creators getting together to film threesomes and foursomes for our fans.
"It's brilliant being able to do it at the Rebel House."
The Rebel Agency also offers its clients access to a mental health specialist.
Jordan said: "They are available to our creators for regular check-ins to ensure they are keeping themselves healthy and safe amid the pressures of their job.
"Our clients are rebels because they don't want to work 9 to 5 jobs, but because their earnings are so sky-high every month, they can easily be sucked into a 24/7 cycle of content creation and answering fans and sponsorship demands.
"We help give them a blueprint for creating a work/life balance."
The Rebel Agency also gives its creators personalised financial guidance and the chance to sign up to it is accountancy service.
Jordan added: "We guide our clients through legitimately paying taxes, supporting with budgeting and setting up a limited company through our accounting service Accounting4Creators. It also guides them to create a strong financial future.
"Our ethos is creating as safe a space as possible for our clients while maximising their income – and having fun along the way."